"It's amazing that in three days you can build a hospital."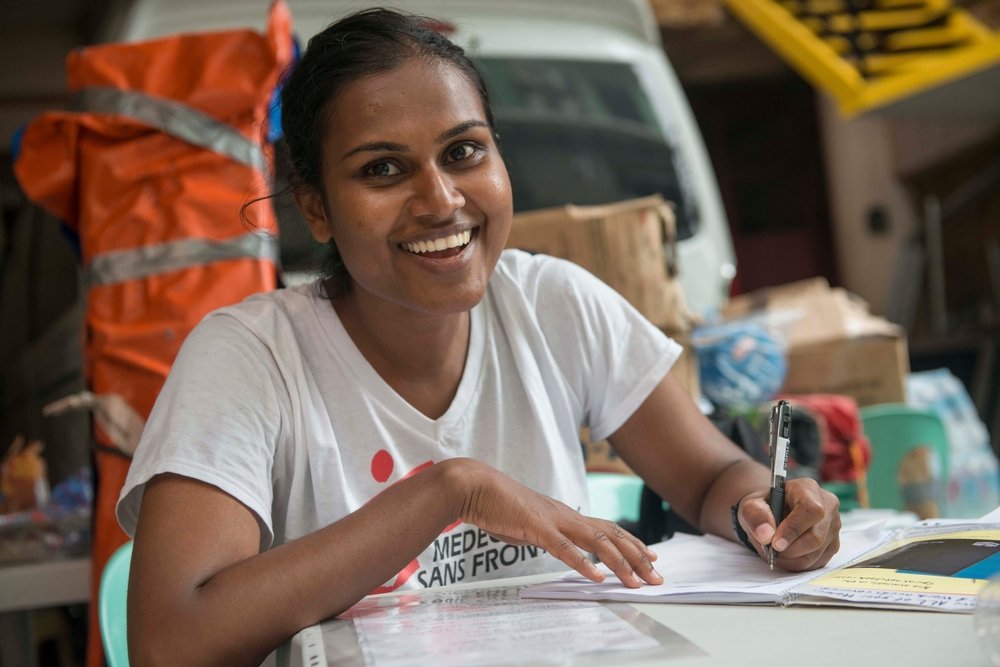 I arrived in Tacloban a week after the typhoon. The airport was crowded, with military aircraft landing and Filipino people lining up to leave on any plane they could. Going through Tacloban city, there was not a single structure that was unharmed. There were lots of signs saying 'please help us, we need food, shelter, medicines. The next day, I went with a nurse and logistician to explore Palo, Tanauan and Talosa, three towns down the coast from Tacloban. These towns were in an even worse state than Tacloban. Houses were completely flattened and big coconut trees overturned. It was clear that we needed to quickly set up a separate intervention here.
Wounds, chronic diseases, infections
We started consultations under a piece of canvas stretched over a garage. We treated some wounds, but also saw many people with chronic diseases like diabetes or high blood pressure whose medications had been washed away, and a lot of respiratory tract infections as a result of the damp, humid conditions.Interestingly, even though people had been warned about the typhoon, many had not evacuated because they thought it was going to be just another typhoon – one of the many that annually strikes the Philippines. What they weren't prepared for was the storm surge after the heavy winds and rain. This is what killed a lot of people.  Survivors often said, 'if we were told to expect a tsunami, we would have left'. As a result, we heard some really sad stories. Our psychologist met a grandmother who was home with her daughter and five grandchildren when the typhoon hit. The mother and grandmother put the children downstairs to be protected from the winds. But they hadn't anticipated the storm surge. When the water suddenly rushed in they tried to save the children but it was too late. The grandmother saw her distraught daughter wave goodbye, jump into the water herself and disappear with her children into the water below.  
"As medical team leader, I was responsible for coordinating the medical activities in the townships of Tanauan, Talosa and Palo"
An inflatable hospital
In the next couple of days, we decided to open a hospital in Tanauan. The town had never had an inpatient facility, even though it had a population of 55,000. Within three days of making that decision, we opened a hospital in three inflatable tents. It had a 12-bed inpatient adult and paediatric tent, a five-bed maternity tent, and an emergency department tent. As medical team leader, I was responsible for coordinating the medical activities in the townships of Tanauan, Talosa and Palo. This included setting up systems and processes for the new hospital and coordinating with local authorities and other organisations to ensure that we were covering everywhere and everyone affected by the typhoon. Needless to say, there was a lot to be done in a short amount of time! But our fantastic field team stepped up to the challenge and made the plans a reality. Initially the biggest job was setting up the pharmacy and getting all the medications, equipment and supplies needed.  Then we had to think about ambulances and referral pathways, medical waste management and sterilisation, laundry, patient transport, among other things. 
In addition to the hospital, we ran outpatient services and mental health activities in the three towns. We also did mobile clinics almost every day to remote villages, driving out through rice paddies and fields of coconut trees to places that had poor access to healthcare even before the typhoon. People were so grateful to receive this mobile medical service. Médecins Sans Frontières also supported the Department of Health's routine health activities, such as vaccinations, antenatal care, and contact tracing for patients with tuberculosis. One patient who made a particular impact on me was a severely malnourished child. He was three years old but weighed only 4kgs. It sounded like the family didn't have enough food, and also that his mother didn't realise how much food he needed. We admitted him to the hospital for inpatient therapeutic feeding and educated his mum about food and nutrition. When I left, he had been there for two weeks and was finally gaining weight. That child probably would have died if he had gone another one or two days without treatment. His malnutrition would have existed before the typhoon, but because Médecins Sans Frontières had set up the hospital in response to the typhoon we were able to save his life. 
Rebuilding and recovery
In a matter of weeks, the project changed from an emergency intervention to more of a regular project where processes and people were in place. It was amazing that in three days you could build a hospital, and then in two weeks, really have things up and running. When I think back to when we arrived, and not having anywhere to sleep or eat, it was incredible to see that progress. Everyday the surrounding community rebuilt and recovered. When I went through Tanauan initially, there was debris on the road, the shops were skeletal wood framework, the roads were empty and people were in a state of shock. One month after all this destruction and chaos, it was already a different place.  The main street was bustling, street stalls were being opened, people were wandering around and there were motorbikes on the roads. Tanauan was coming back to life.
Chatu has also undertaken placements in South Sudan and Iraq.
For more information, register for recruitment updates.