Our emergency teams are experts at fighting disease outbreaks. With your support, we can help save the lives of people battling COVID-19.
Right now, Médecins Sans Frontières is providing urgently needed medical care and support in more than 30 countries to counter the COVID-19 pandemic.
Our teams are also gearing up to confront potential outbreaks in the hundreds of areas we were already working before the pandemic struck. We are deploying medical staff, sending supplies and applying nearly 50 years of experience fighting epidemics to protect the most vulnerable and save lives.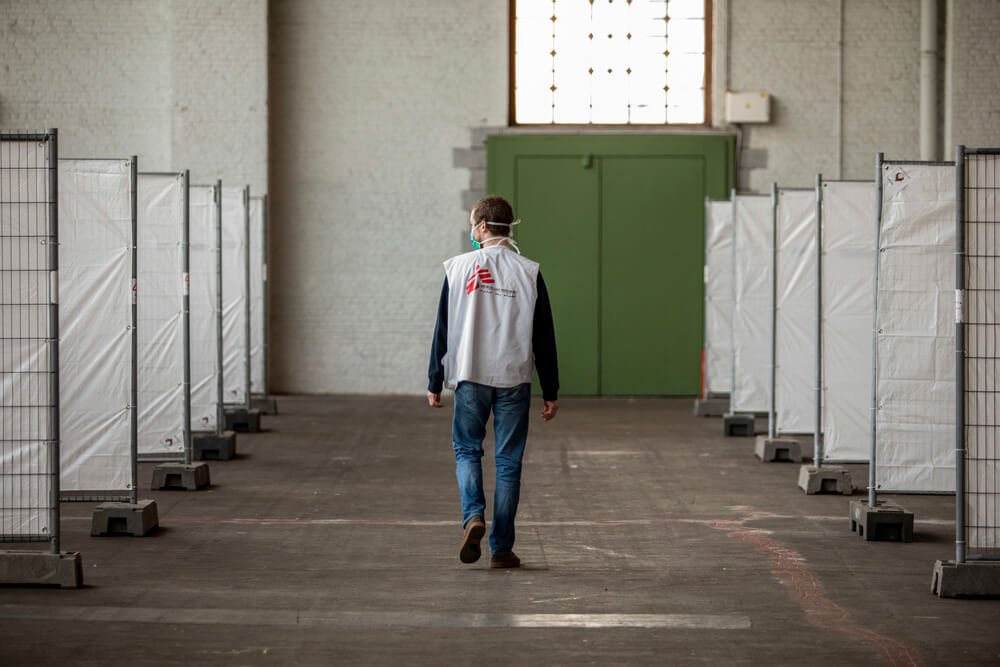 How we're responding to COVID-19
We're sending medical teams
Our emergency medical teams are working alongside local healthcare staff on the frontlines of the fight against COVID-19
We're helping vulnerable communities
From war-torn Syria and Yemen to vast refugee camps in South Sudan and Bangladesh, we're doing all we can to fight the COVID-19 pandemic and to keep existing projects running
We're protecting healthcare staff
We're setting up lifesaving infection control measures that will protect patients and keep frontline staff safe and healthy
We're sending medical supplies
Our logistics teams are delivering the tools to beat COVID-19, from medicines and protective clothing to state-of-the-art mobile hospitals
With your support, we will help beat the new coronavirus pandemic. If you're able to contribute at this time, will you make a donation to support our response to COVID-19?
If we reach our fundraising target that supports our COVID-19 response, all additional donations will be directed to our general fund and will assist patients wherever the need is greatest. 
Personal information is collected to process donations, issue tax receipts and send supporter communications (e.g. e-newsletters, fundraising events and field activities). A service provider we engage will also collect personal information regarding your use of our supporter communications (e.g. whether you unsubscribe or click-through). The service provider uses this personal information for the sole purpose of reporting to us. Please contact us if you wish to limit the use of your personal information or to stop receiving direct marketing material. Our
Privacy Policy
contains information on how you can access or correct your personal information, who we disclose your personal information to (including overseas recipients) and how you can lodge a complaint. All donations are directed to where the medical need is greatest. Thank you. Médecins Sans Frontières New Zealand Charitable Trust. Registration Number CC53189.
Security Policy
When donating online to Médecins Sans Frontières New Zealand, your personal information is protected by an industry-standard high grade encryption, using SSL technology provided and verified by
Symantec
. We regularly review our practices to ensure that our supporters are protected online. If you have any questions about our security policy, please contact us using the details above.
Refund Policy
Médecins Sans Frontières New Zealand may provide refunds in exceptional circumstances. Read our 
refund policy
in full. Please phone us on 0508 633 324 for further information.