DONATE WITHOUT DISCRIMINATION 
Médecins Sans Frontières (Doctors Without Borders) is an independent international medical humanitarian organisation. Today our teams are in more than 70 countries delivering vital medical assistance to people affected by conflict, natural disasters, epidemics and other medical emergencies. As an independent organisation, Médecins Sans Frontières New Zealand does not accept money with strings attached. Not from governments, nor from anywhere else. Our funding comes directly from people like you. It's that support that allows us to remain free to deliver medical assistance to treat those who need it most, regardless of ethnicity, religion or political affiliation.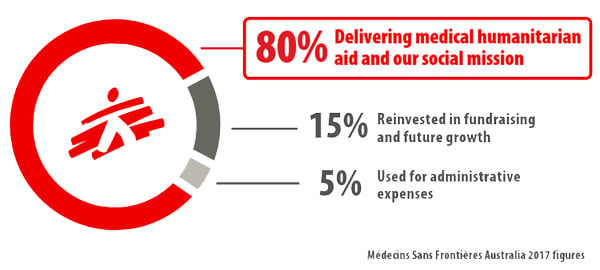 Your donation will help ensure that our medical teams can treat patients in urgent need.
Donations of $5 or more also may make you eligible for a tax credit.
WHY MAKE A MONTHLY DONATION? 
The regular contributions of our monthly donors enable us to act immediately when emergencies arise, while meeting the ongoing medical-humanitarian needs of people living in extremely challenging settings.
The reason I have continued to support Médecins Sans Frontières for almost 15 years is because I believe the organisation's actions are in line with its clearly-stated mission and that they are particularly efficient and sustainable in their work. 
Personal information is collected to process donations, issue tax receipts and send supporter communications (e.g. e-newsletters, fundraising events and field activities). A service provider we engage will also collect personal information regarding your use of our supporter communications (e.g. whether you unsubscribe or click-through). The service provider uses this personal information for the sole purpose of reporting to us. Please contact us if you wish to limit the use of your personal information or to stop receiving direct marketing material. Our
Privacy Policy
contains information on how you can access or correct your personal information, who we disclose your personal information to (including overseas recipients) and how you can lodge a complaint. All donations are directed to where the medical need is greatest. Thank you. Médecins Sans Frontières New Zealand Charitable Trust. Registration Number CC53189.
Security Policy
When donating online to Médecins Sans Frontières New Zealand, your personal information is protected by an industry-standard high grade encryption, using SSL technology provided and verified by
Symantec
. We regularly review our practices to ensure that our supporters are protected online. If you have any questions about our security policy, please contact us using the details above.
Refund Policy
Médecins Sans Frontières New Zealand may provide refunds in exceptional circumstances. Read our
refund policy
in full. Please phone us on 0508 633 324 for further information.
Will I receive a tax receipt for my donation?
Yes, you will. For a one-off donation you will receive a tax receipt via mail after you made your gift. For monthly gifts, receipts are sent annually, towards the end of April. Please keep your address details updated so we can ensure you receive your tax receipt.
Is the Médecins Sans Frontières donation page secure?
The online donations area of the Médecins Sans Frontières New Zealand website is fully secure. This area of the site can be identified by the page's address which begins with "https". All these pages are encrypted using SSL before transmission.