Stories From Patients & Staff
Yemen: Taking nursing care to the next oxygen level
Many of the babies admitted to the neonatal department in the Médecins Sans Frontières-supported Al-Salam hospital in Khamir, northern Yemen, are severely ill, and the medical team has been working hard to improve their care and the babies' outcomes. To help these very ill babies breathe and improve their chances of survival, we've introduce high flow oxygen therapy.
Earlier this year paediatric and neonatal nurse Alison Moebus joined the team in Al-Salam hospital to train her fellow nurses, assess their competency, and implement humidified high flow oxygen. Here neonatal nurses Faten, Najla'a and Aoloom join Alison to reflect on what they achieved, and what it means for the lives of newborns and their families.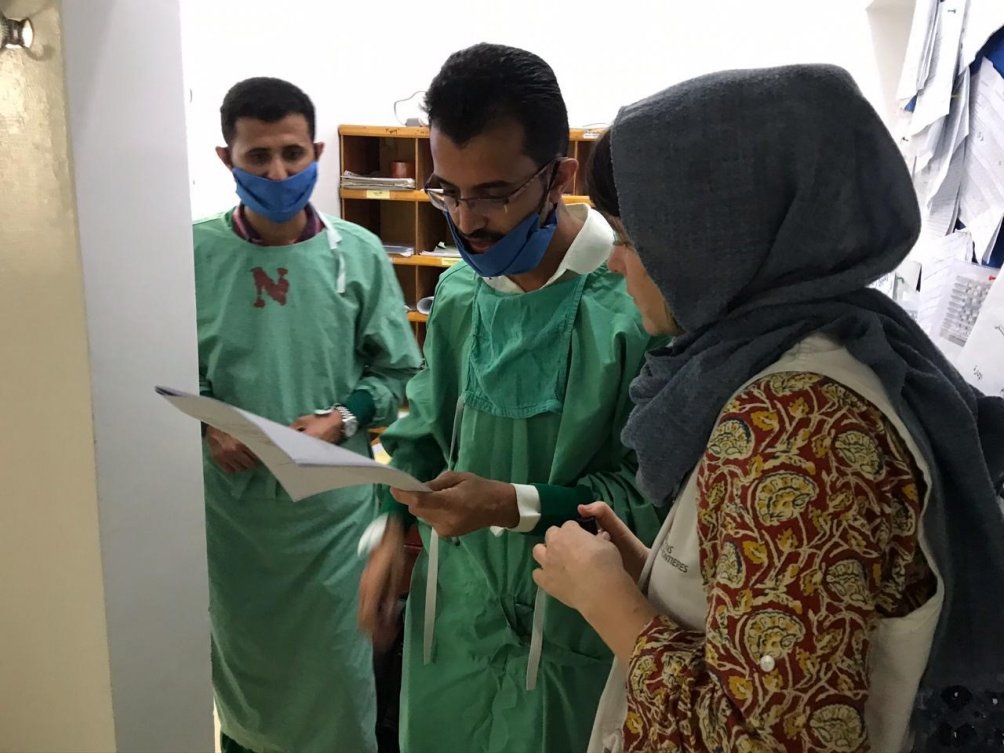 Alison Moebus: training and implementing
Respiratory illnesses are one of the major causes of death and illness in children less than five years old worldwide and Khamir, Yemen, is no exception. Babies would present to the hospital in severe respiratory distress caused by bronchiolitis, pneumonia, whooping cough or as a result of prematurity.  
Humidified high flow nasal cannula oxygen therapy, or "high flow", provides slightly more respiratory support than the traditional low flow oxygen therapy you receive through a mask or nasal cannulas. Although high flow is commonly used in the care of sick children in many neonatal and paediatric departments around the world, it is less utilised in low-resource settings, and had not been used before by MSF in Yemen. 
There was a lot of excitement among the nurses and nursing assistants about the implementation of high flow and the implications for our patients. The nurses in Khamir are very skilled but the option of respiratory therapy beyond standard oxygen therapy has never been available before. The nurses attended training workshops where we covered topics such as respiratory anatomy and physiology, respiratory assessment and how high flow worked. It was lots of fun and both the nurses and I got a lot of out of learning together.  
Whether you're in Australia or in Yemen, it's always a privilege to be able to share knowledge and learn with your colleagues.  
After all the nurses and nursing assistants had been trained (the doctors were trained by a paediatrician) we started high flow onto our first patient.  She was a two-week-old baby girl with pneumonia, turning a very unhealthy shade of blue as she tried to recover from her coughing fits.  But after starting on high flow, she began to settle and improve.
Over the next 10 days she slowly improved not only with the high flow oxygen therapy and antibiotics, but with the care attention given to her by the nursing and medical staff in partnership with her family. Whether you're in Australia or in Yemen, it's always a privilege to be able to share knowledge and learn with your colleagues.  
Najla'a Mujeeb: training was fun and exciting
I started to work as nurse in 2015, and in 2017 I started working as nurse in the neonatal unit in the MSF-supported hospital in Khamer. At first I thought it was going to be difficult for me to know how to use [the new device], but I had to go to the training as we needed to have this device running in the department—I heard from the doctors it was going to help us a lot in saving lives. I was a little unconfident about how we could implement it in the babies, but then I found out it was very easy.
The training for us was more like fun and excitement. We accomplished it and now we're saving more babies' lives.  To be honest, when the babies die because of respiratory infections I feel so depressed. I feel like I have lost one of mine. Now, for me to see more babies make it, and that we've started saving more lives, I feel so happy and I've already asked MSF if they can give us more devices.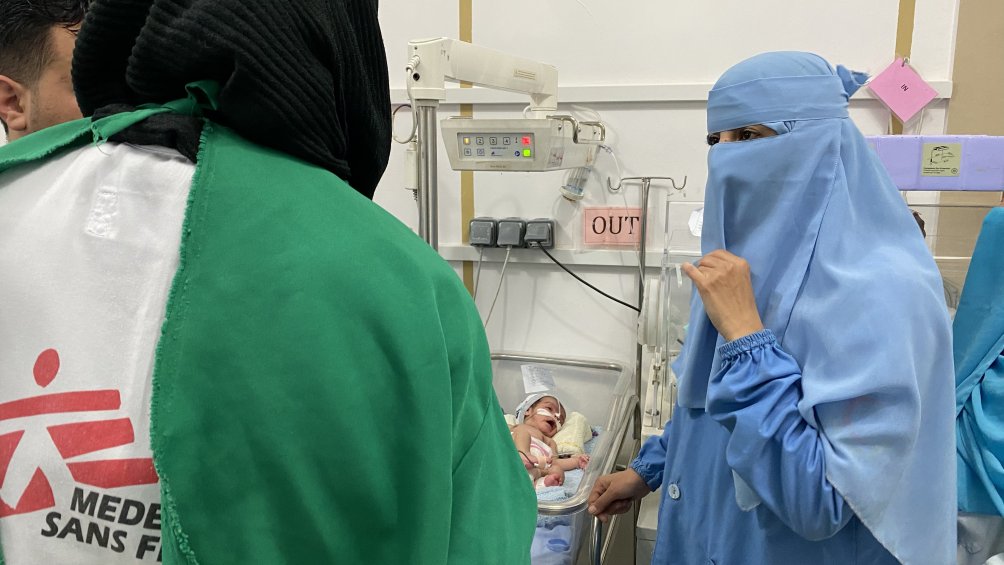 Aoloom Ali: we're able to save more lives
It's been 19 years since I started working as a nurse in Khamir hospital. When MSF brought us two high flow devices to be used in the neonatal department, it was the first time I had heard about it and had no idea how to use it. When they explained to us what this device will do and how it is going to help us to save the babies' lives, I rushed to sign up for the training and I was ready for it.
We had a great training session with Alison, and she explained everything to us and make it very simple and easy.  All the nurses were so excited. We were very competitive together about who was going to be the best user of it. During my years of experience I've seen babies who couldn't be saved, and the look on the parents' faces really hurts. I'm a mother and I feel their hurt. It feels so good when you save lives, and the parents can't stop thanking us for saving their babies' lives. One of the parents came to us and said " You are superheroes," and that literally made my day.  
One of the parents came to us and said, "you are superheroes" and that literally made my day.  
Faten Ali: First time user
It's been five years since I started working as nurse in Khamir hospital. The main challenge for us was it's the first time for this new device to be used in [MSF projects in Yemen], so in my years of experience I had never used it before. At the beginning we were nervous using it, but now we're good. During the training we were very happy that we're the first ones in Yemen trained on how to use it.   
This device has changed a lot of things in our department. For me personally, when we started using it, I felt so grateful that we can save more lives than before. For the families as well, when they gave us their baby and had already almost given up on his survival, and when we could give him back to them, they're like jumping in the air, happy and grateful for us and the hospital.  
Send a message of thanks to our nurses and midwives!
Nurses and midwives make up over half of Médecins Sans Frontières/Doctors Without Borders (MSF) medical teams. Without them, we wouldn't be able to provide high quality care in our projects around the world.
To thank our nurses and midwives for the incredible work they do each day, we're collecting messages to send to MSF teams around the world. Join us by adding your own note of gratitude today.