Stories From Patients & Staff
Nurses and Midwives: Celebrating Diverse and Critical Roles
Nurses and midwives are the backbone of Médecins Sans Frontières/Doctors Without Borders (MSF) multidisciplinary teams. They also fulfill diverse and critical roles in health promotion, patient education and community care. 
 
Throughout 2020, MSF is celebrating the efforts of nurses and midwives and highlighting their daily contributions in and alongside MSF projects.
Reynosa, Mexico 
September 2020: The MSF nursing team discuss a day's work during a meeting at the COVID-19 treatment centre in Reynosa, one of two established by MSF in university basketball gymnasiums in Tamaulipas state. 
Between May and September, the centre supported the local health system during a surge of COVID-19 cases and provided care for patients with both mild symptoms and more severe symptoms requiring concentrated oxygen. Staff also provided an isolation area for patients who could not isolate at home. Across the two centres, MSF treated 194 patients over the three and a half months, providing them with mental health care, social support and health education as well as medical treatment.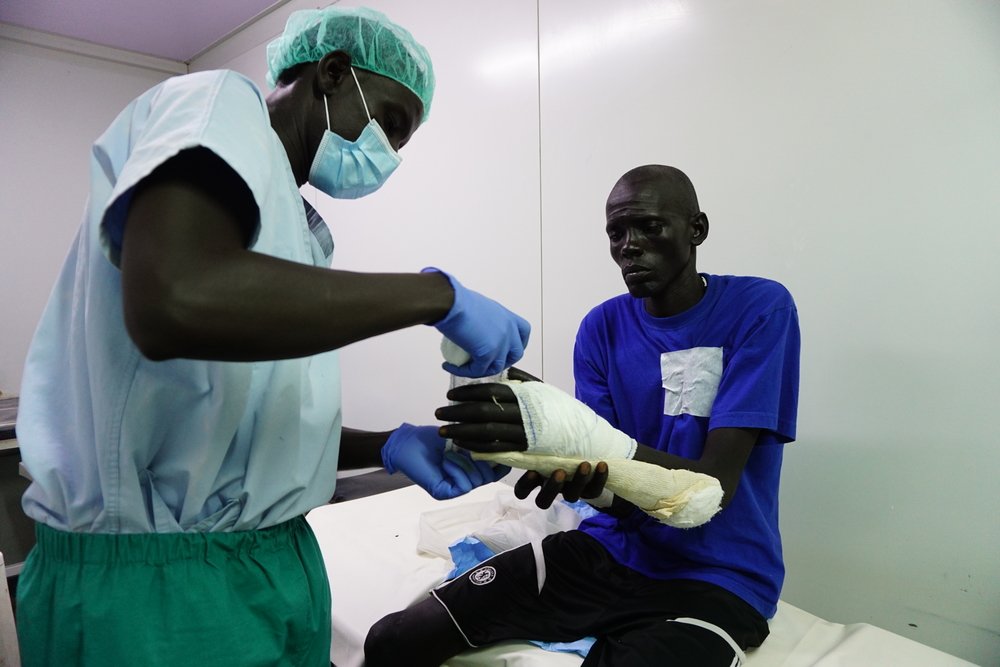 Jonglei state, South Sudan  
MSF operating theatre nurse, Bateah, attends to a war-wounded patient, Gatwich, in the minor operating theatre at Bentiu Hospital in the Protection of Civilians site, changing his dressing and assessing how his wound is healing. Over the course of a week from 29 July, Bateah and his colleagues treated 36 patients like Gatwich, who were wounded in inter-communal clashes and referred on from MSF's more basic service in Pieri. 
Kadamjay, Kyrgyzstan 
Midwife Gulinsa is providing an antenatal training for pregnant women in the MSF-supported maternal school in Kadamjay. In this stunning but harsh region of southwest Kyrgyzstan, accessing healthcare is challenging even without the threat of COVID-19, as the long distances can make it difficult for people to reach health centres. Having midwives closer to their community means these young women can safely prepare for childbirth.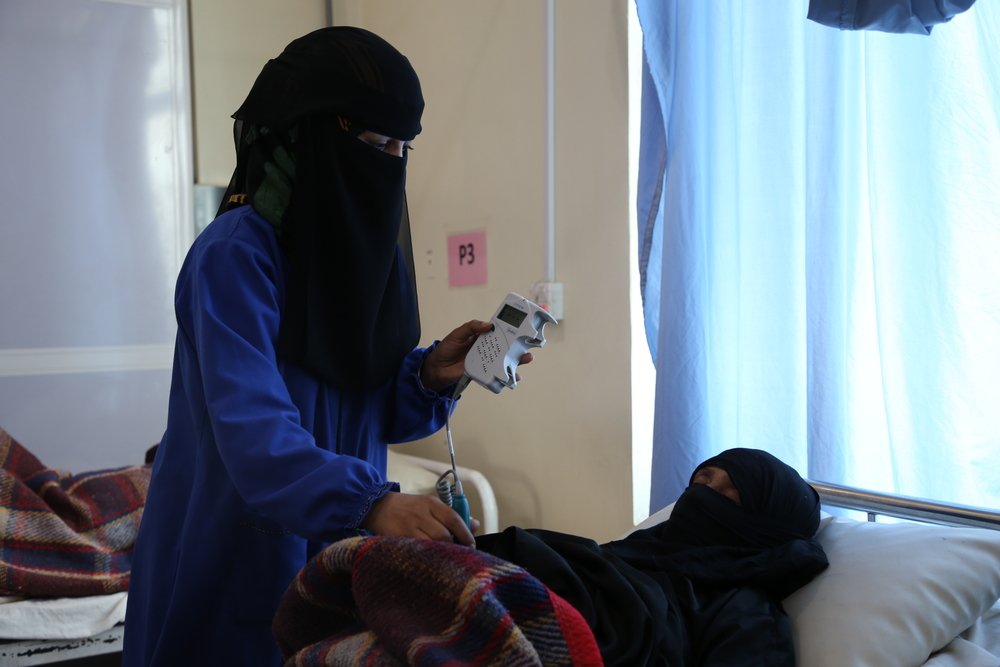 Taiz Houban, Yemen 
Wadha, a midwife at MSF's Mother and Child Hospital, assesses a pregnant woman. Wadha and her colleagues continue to ensure pregnant women deliver safely and that their children are cared for. Many of the midwives face their own daily challenges due to the prolonged war in Yemen, including the danger of active frontlines, displacement from their hometowns and separation from family.
"I hope there will come a day when this war is over," says Wadha.  "I dream of having my own house and finding stability."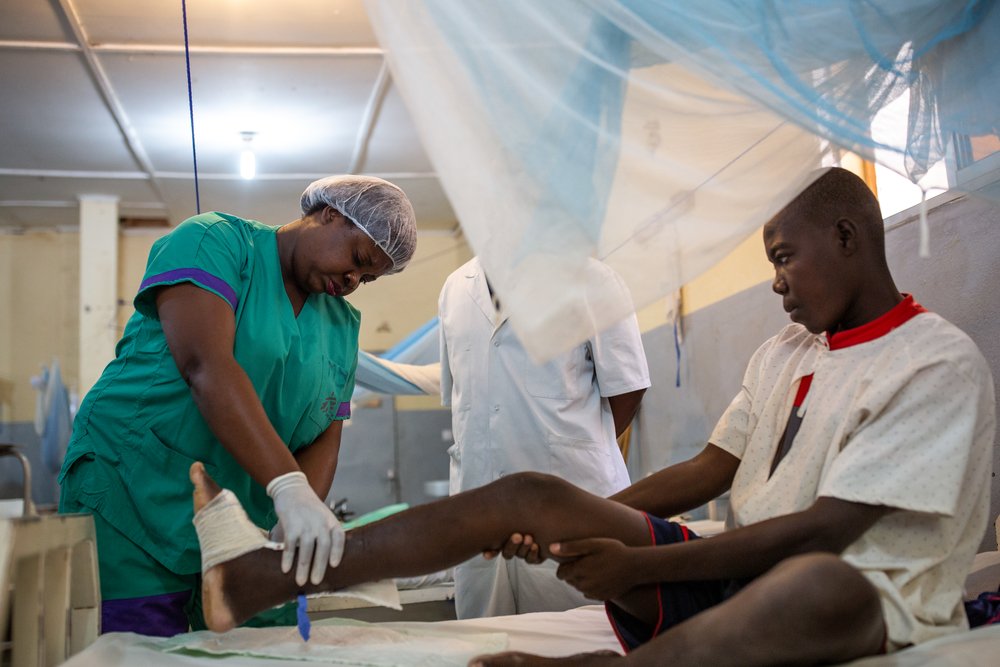 Far North Cameroon 
Nurse Silviane Moussongo attends to a patient during the morning round at an MSF-supported hospital in Far North Cameroon, where she and her colleagues treat difficult cases such as complicated fractures, severe soft tissue and abdominal infections and burn wounds. 
MSF has been providing humanitarian assistance to people affected by insecurity here since 2015, particularly in the border zone with Nigeria, and is currently working in Maroua, Kolofata, and other nearby regions.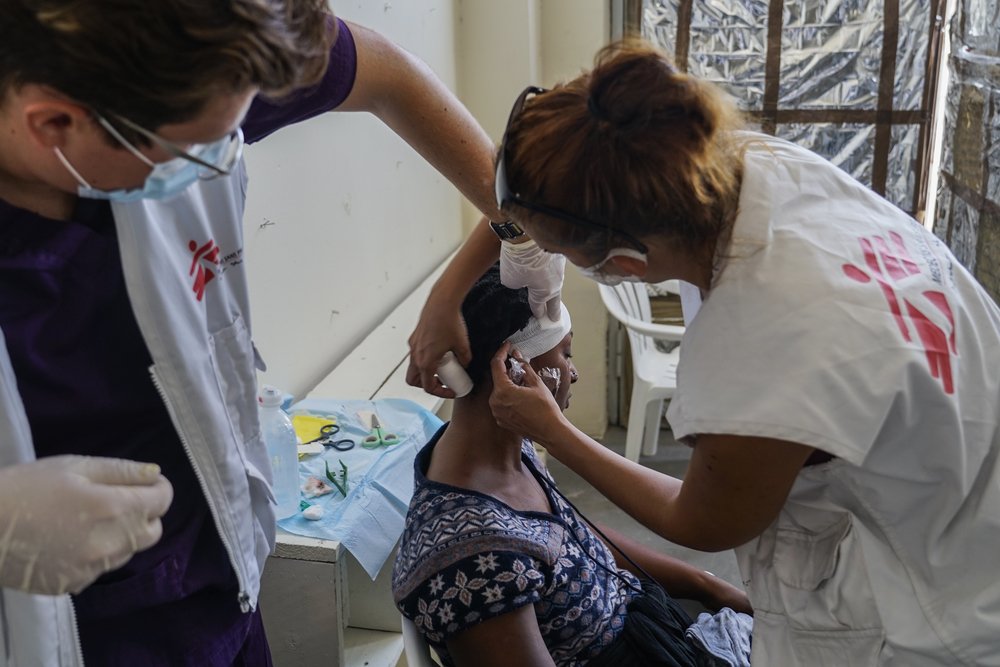 Lesbos, Greece
An MSF nurse treats a woman who has been on the streets of Lesbos for four days following the 8 September fire in Moria refugee camp, and has been hit by a stone. The woman was one of nearly 12,000 people forced to evacuate the destroyed refugee camp.
MSF immediately set up an emergency clinic to treat people affected by the fire, and MSF nurses worked hard at the scene to provide care to the overwhelming numbers of people suffering from wounds, smoke inhalation, conditions such as chronic illness and obstetric needs.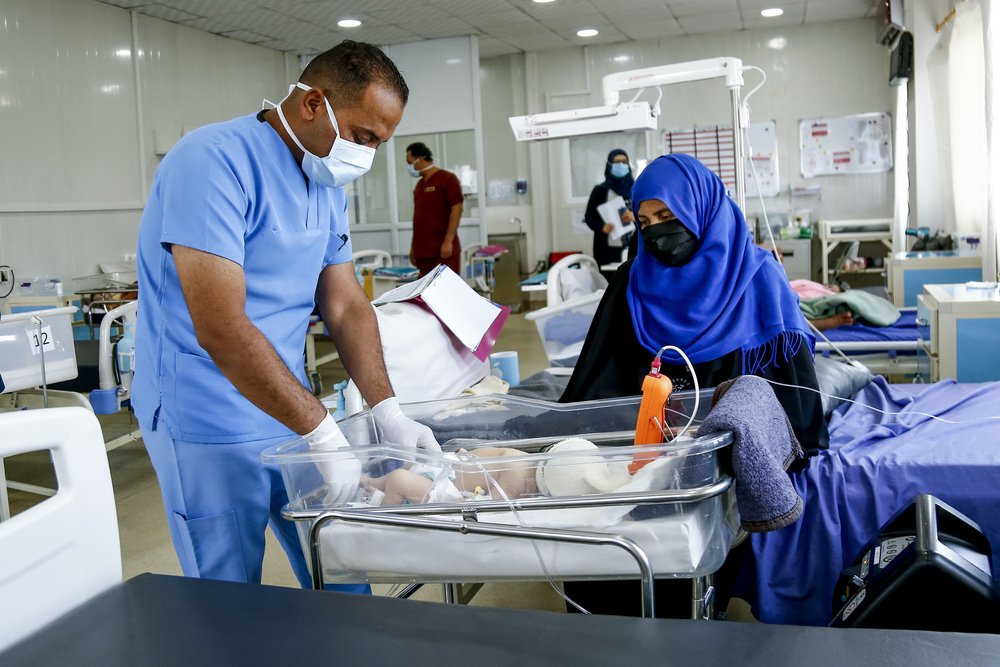 Mosul, Iraq 
A nurse checks on a baby in the paediatric and neonatal ward in the MSF-run Nablus hospital, west Mosul. The facility houses a maternity unit, emergency room and inpatient department for newborn and paediatric care. 
Our nurses and midwives at the facility support intensive therapeutic feeding programs, as well as care for children with conditions such as bronchiolitis and asthma, and treatment for newborns with birth asphyxia (a condition where babies experience oxygen deprivation and stop breathing, sometimes caused by complicated births).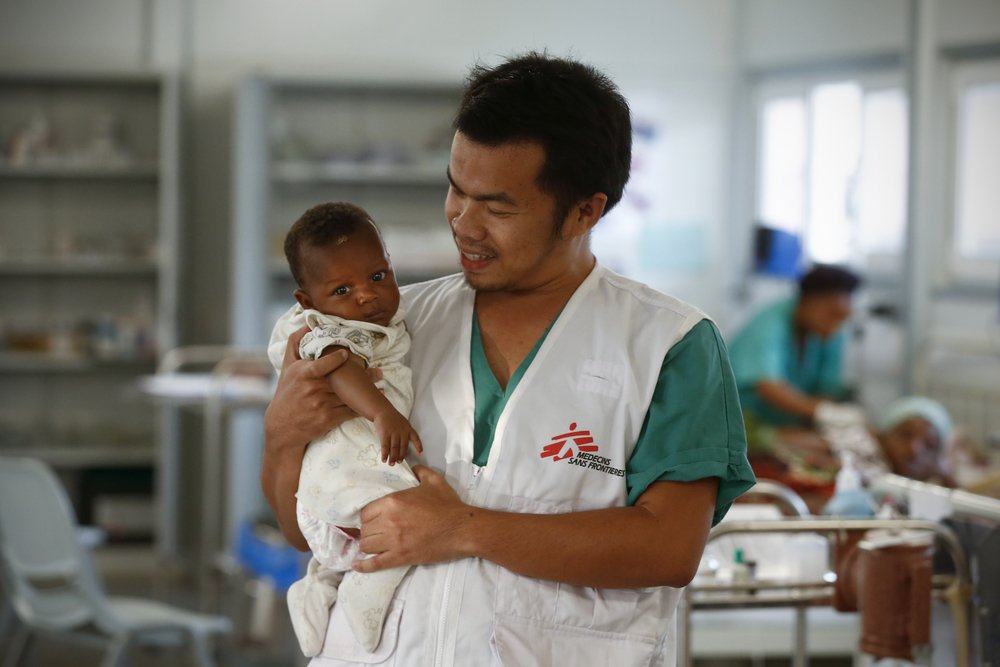 Kenema, Sierra Leone 
Nurse Team Supervisor Jerwin Capuras holds one of the youngest patients in the intensive care unit of MSF's paediatric hospital in Kenema. Sierra Leone is a country with one of the highest rates of mortality for children under five years. 
From its opening in March 2019 until the end of May 2020, the 63-bed Kenema Hospital provided over 7,900 consultations in its emergency room, including over 3,330 consultations for children with malaria. In April and May 2020 there were twice as many children arriving late at the hospital in critical, near death condition than in the same period of 2019, while the country faced a COVID-19 outbreak.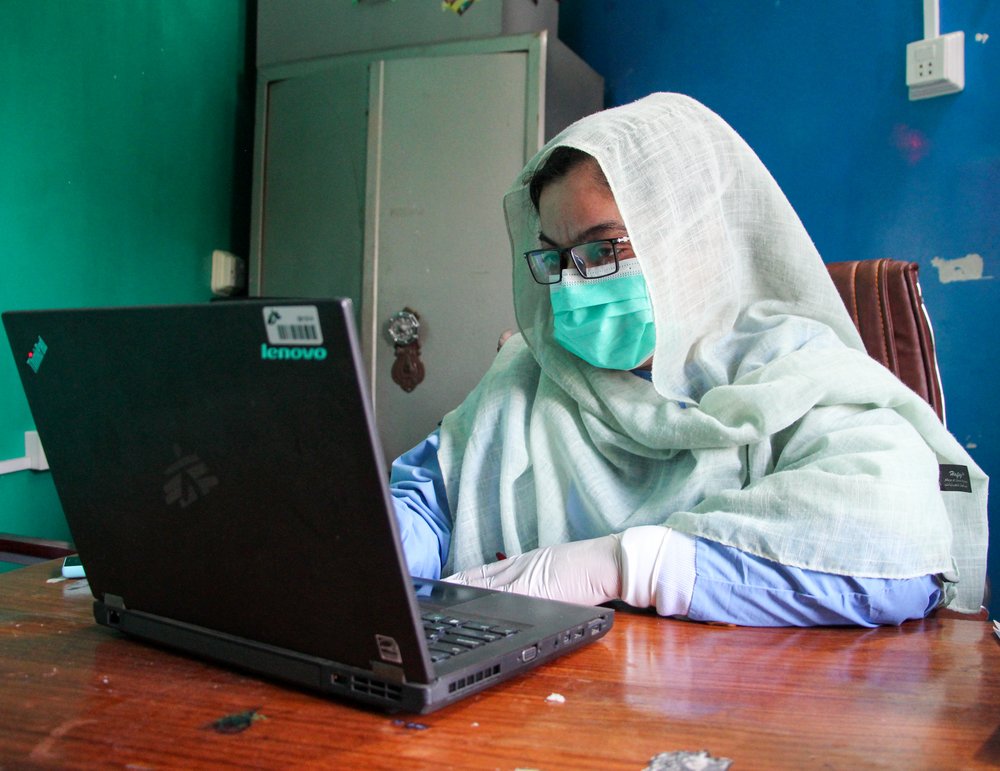 Timergara, Pakistan 
Midwife Activity Manager Assistant Aarzo Tabassum is working in her office at the mother and child health unit in Timergara DHQ Hospital, Lower Dir District. In Pakistan, thousands of women and infants die each year from medical conditions that are easily preventable. Aarzo and her MSF colleagues provide obstetric and gynaecological care to mothers, and paediatric and newborn care to their children.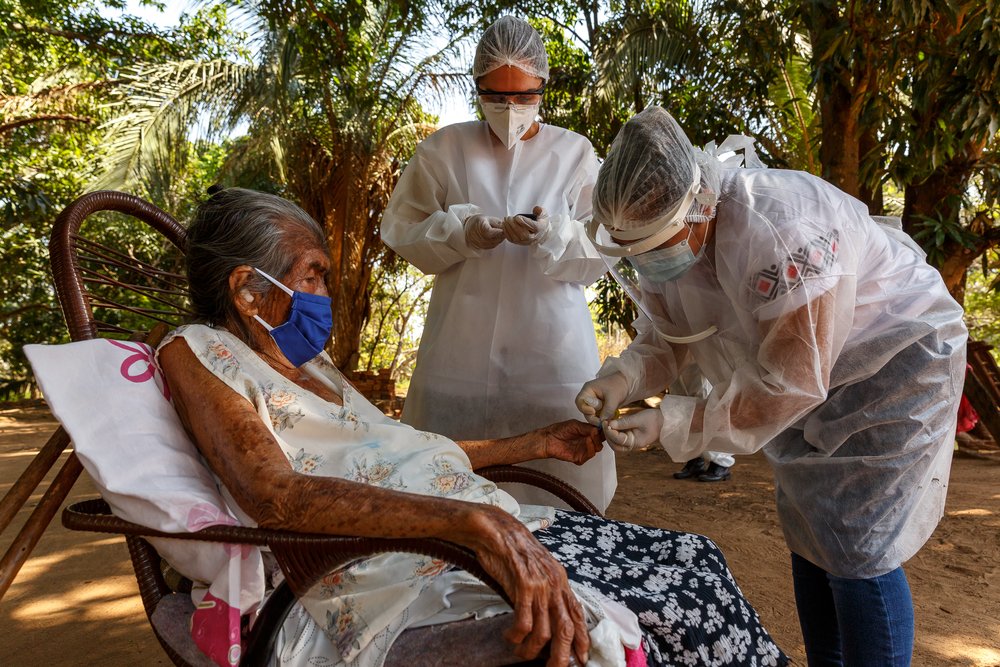 Mato Grosso do Sul, Brazil
Nurse Mayra Leandro (right) is testing a patient's blood sugar level, accompanied by a health worker colleague from the Special Indigenous Health District of Mato Grosso do Sul. Indigenous people in Brazil face exclusion from healthcare and are especially vulnerable to chronic diseases like hypertension and diabetes, placing them at higher risk during the COVID-19 pandemic. MSF is working with these communities to prevent, diagnose and treat COVID-19 and other illnesses.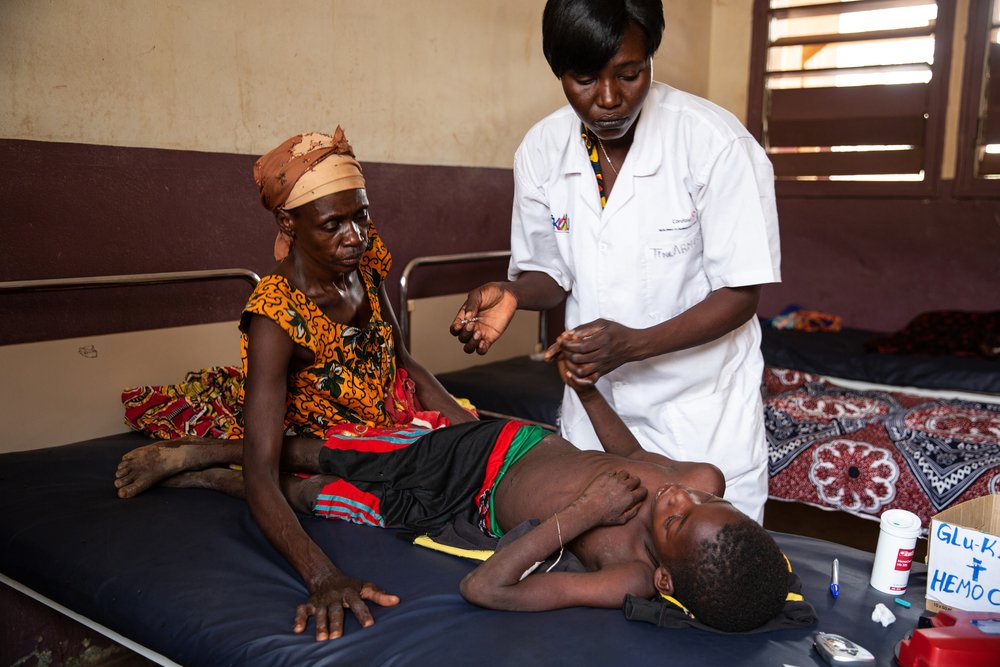 Benzembe, Central African Republic 
In the MSF-supported medical centre in Benzembe village, a nurse assesses Maxime (centre), who was brought to the hospital very ill with measles. She is checking Maxime's temperature and medical condition. Earlier this year, CAR declared a nationwide measles epidemic, the largest outbreak in almost two decades. MSF nurses are at the forefront of treating children for the disease and also run large-scale vaccination campaigns around the country.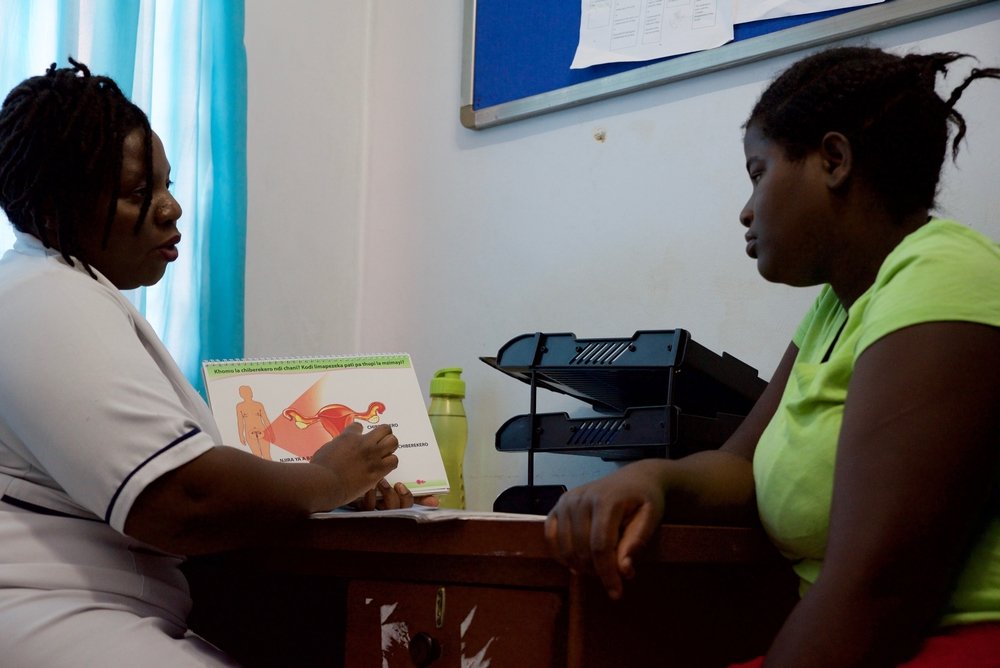 Blantyre, Malawi
Winnie (left), a nurse midwife, meets a patient for a consultation for cervical cancer in a health centre in Blantyre. MSF's cervical cancer program has been running here since early 2018, initially offering screening, consultations and outpatient treatment for pre-cancerous and cancerous lesions. 
Since then, our activities have developed to include health promotion at community level, support for vaccination against HPV infection, specialised surgery, and palliative care for patients with advanced-stage cancer. The cost of cervical cancer treatment is often prohibitive for women in Malawi, as many lose their sources of income because of physical pain and reduced mobility.