Stories From Patients & Staff
From Cambodian refugees to MSF health workers
Yoeuth Yoeun fled the Khmer Rouge in Cambodia in the late 1970s. In a refugee camp in Thailand she worked with Médecins Sans Frontières—where she caught the eye of fellow Cambodian, pharmacist Chamroeun Ros.
Yoeuth was just five years old when the Khmer Rouge seized power in Cambodia in 1975. In the turmoil that followed, she was soon separated from her family and alone. She joined others fleeing through the woods.
"We ran away from the shells and couldn't sleep at night," she says. "The situation we faced during the escape was difficult. Sometimes we didn't have anything to eat, and because I was small, I couldn't run as fast as the others. I fell behind." 
She eventually reached the refugee camps which were set up just across the border in Thailand. Soon after that, in 1978, Vietnam invaded Cambodia and hundreds of thousands of other Cambodians arrived at the camps. There were people from all walks of life, and many of the refugees brought much-needed professional skills to the camps. 
In 1987, when Yoeuth was 17, she first encountered MSF and asked a man who worked at a paediatric hospital in Khao Dang camp if he needed any staff. "Are you kidding or are you serious?" the man replied. Yoeuth was serious. 
She studied everything she could on anatomy, basic healthcare and midwifery at the hospital, which MSF had set up in the camp, and worked there alongside foreign health workers.
"They motivated us and shared their knowledge," she says. "It was exhausting work. There were many pregnant women and young mothers. I remember I was tired but very happy at the same time as I got a lot of encouragement from my colleagues."
Around that time, Chamroeun Ros reached the same camp. After completing high school in 1984, he had moved to Phnom Penh to avoid being conscripted into the army. Shortly afterwards, a sibling who lived in Australia warned him and said he should try to flee over the border to Thailand.
"It took 15 days to reach the camp. We jumped over fences and had to hide, as I wasn't a registered refugee," he says. He was interested in becoming a health worker and soon found himself being trained to work as a pharmacist by a Dr Olivier from MSF. "What I have today is thanks to Dr Olivier helping me learn medicine," Chamroeun says. "I'd like to meet him again and speak to him. I remember him well." 
There was another person at the MSF clinic who would play an important role in Chamroeun's life. "I worked in the same place as Yoeuth and was interested in her," he says. "I knew that she had been separated from her parents since the time of Pol Pot. I fell in love."
However, Yoeuth had other plans: her longing for Cambodia was strong and she left MSF in 1991. She returned to Cambodia and settled in Phnom Penh when the war between Vietnam and Cambodia ended. A few years later Chamroeun also returned to Cambodia and started looking for her through friends. "I eventually met her and took her out to eat. We have been together ever since," he says with a smile. 
"We finally got married in 1994," Yoeuth adds. The couple soon had a son, followed by twin girls a few years later.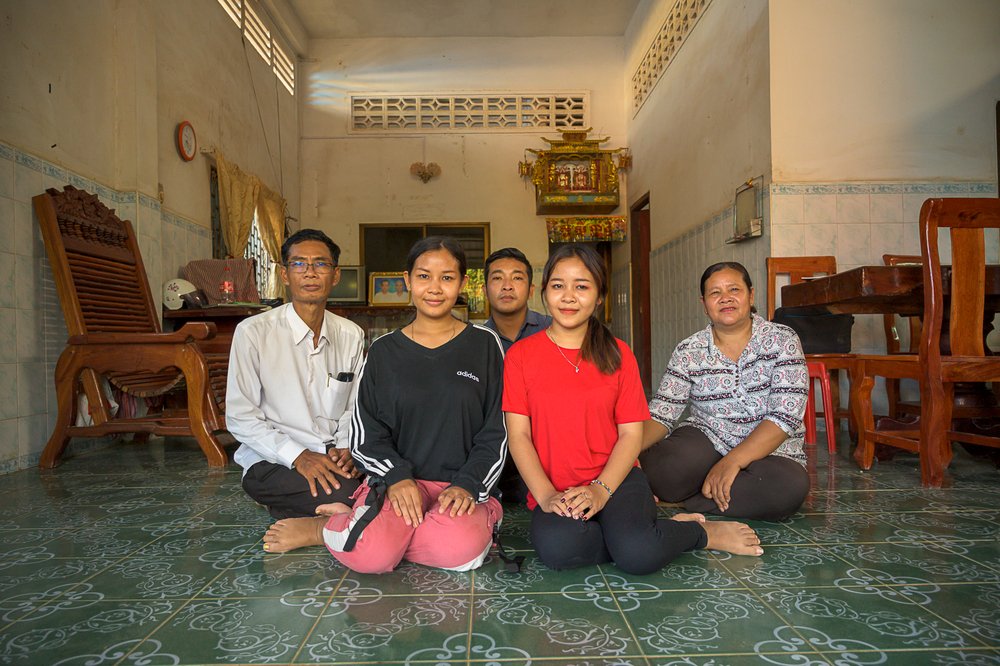 The family settled in Banteay Meanchey province and in 1996, both parents started working for MSF again. They helped provide medical care for patients with sexually transmitted infections, and people living with HIV/AIDS. "We reached out especially to sex workers in the area and helped them make appointments for health check-ups at the clinic," says Yoeuth. Chamroeun again worked as a pharmacist and stock keeper. 
Yoeuth and Chamroeun worked with MSF until the early 2000s and have worked for other healthcare providers since then. The medical training in the refugee camp was their start to an independent future. "My family was poor. My mother was old. She couldn't afford to help me," says Chamroeun. "I came to the camp with only my bare hands. All I have is because of MSF."

Celebrate 50 years of humanity with us
This year we're celebrating 50 years of medical humanitarian action and reflecting on some pivotal moments that have marked our history.
From disaster responses to epidemics, conflict zones to refugee camps, our teams have provided essential health care and assistance to millions of people who would otherwise be denied access to healthcare, clean water and shelter.