Stories From Patients & Staff
17 years of field work: Q+A with MSF's Malcolm Hugo
Psychologist Malcolm Hugo is one of Médecins Sans Frontières (MSF) Australia's most experienced field workers. He has completed more than 20 field assignments, including responding to some of the key humanitarian crises of recent times.
His assignments have included responding to the 2004 tsunami in Indonesia, the 2010 Haiti earthquake, the Ebola outbreak in Sierra Leone in 2014, and missions in Iraq in 2019 and Greece in 2021. Here he answers questions about his experiences with MSF over the past 17 years.
What led you to work with Médecins Sans Frontières?
After working as a clinical psychologist in Australia with children, adolescents and adults, I became interested in working with Médecins Sans Frontières when my own children became independent. I have always liked to travel, experience different cultures and meet new people. I also think it's healthy to be out of your comfort zone occasionally. 
My first placement was for six months in Aceh following the 2004 earthquake and tsunami; I have continued to work with Médecins Sans Frontières ever since.
Could you describe a patient who made an impact on you?  
After Typhoon Haiyan in the Philippines in 2013, I visited the worst-hit areas to find those most in need. I worked with a couple who had lost their two children, aged nine and ten, during the typhoon. They had been searching for their bodies for over a week when I met them in the ruins of their small house, contemplating ending their own lives because of their overwhelming grief. 
After our first session, the father agreed to give his loaded rifle to a neighbour for safekeeping. I visited them daily for a couple of days, then whenever I could over the next month. Within a few weeks, despite their grief, they were more talkative, sleeping better and no longer considering suicide: they were showing signs of recovery. With help, they started rebuilding their house, replanting their few crops and became confident they could make a new life for themselves.
How do you support people in difficult ongoing situations with no easy resolutions?
The basic emotions are universal, but their expression is different in different cultures. The challenge is providing evidenced-based solutions in the appropriate contextual and cultural way. You are always trying to prioritise multiple needs.
For example, in my most recent mission in Greece, there were refugees from different countries and cultures such as Afghanistan, Congo, Syria and Somalia. Many had experienced multiple traumas and some had identifiable problems such as PTSD. By employing asylum seekers as translators and cultural interpreters, we could provide culturally appropriate approaches to reducing their distress.
What have been your most memorable assignments? 
In projects in Ethiopia and Pakistan, working with malnourished children, we provided nourishment, but also trained their mothers to provide the stimulation that children require – singing to them, telling them stories, massaging them – to improve their development. This helped parent-child bonding and had the added benefit of alleviating the mothers' depression. 
I also worked in Sierra Leone during the Ebola outbreak in 2014: when I arrived, they'd thought they had it under control, then all hell broke loose. Ours was the only treatment centre in Sierra Leone at that stage. We had people coming from everywhere, international press arriving and then staff started getting Ebola. The combination of working with patients and sick staff members was very stressful. 
But the most memorable have been the natural disasters – the first one in Aceh and also Haiti in 2010. That level of disruption, with 200,000 people killed, is mind-blowing.
Are there any individuals who stand out in your memory?
One eight-year-old Syrian girl had spent many months in a camp for displaced persons in northern Iraq after her family escaped from an ISIS stronghold. On their lengthy journey, the girl trod on a landmine. She was thrown high in the air, fractured both legs and had shrapnel wounds to her face and body.
After recovering from her physical injuries, she was experiencing night terrors, wouldn't leave the tent, was bed wetting and selectively mute. With her mother's assistance, and daily visits from a local MSF counsellor, we began step-by-step activities – walking to a nearby children's group and participation in a bed wetting program. Despite initial embarrassment about her facial scars, she went on to attend a larger children's group with the aim of enrolling in the camp school.
These situations are not easily resolved, but you try to get people back to functioning as normally as possible.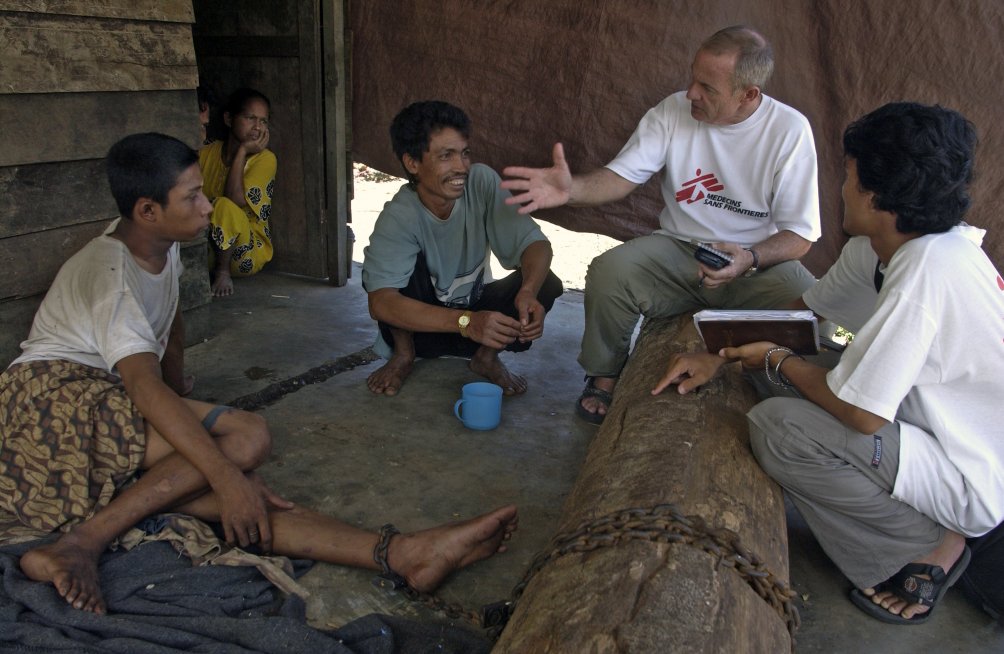 What has been the most satisfying part of your work with Médecins Sans Frontières?
Making a difference with individuals is always satisfying. I've been on over 20 projects, so there have been a lot of people saying they feel better.
And the relationship with local MSF staff is really rewarding. The translator and cultural interpreter is the most valued person you work with. Before I see a patient, I have to explain my plan and treatment rationale to the translator because certain approaches could seem counterproductive. I still get emails from local MSF staff who have gone on to study psychology or education, or further work with MSF. 
What would your advice be to others who are contemplating working with Médecins Sans Frontières?
I feel so fortunate that I've had the opportunity: I'd recommend anyone do it. I try to keep things in balance while I'm there. You'll be working with other international staff, you'll have cultural constraints and you'll be working without your usual resources: it's not easy but overall, it's a really enriching experience.

Celebrate 50 years of humanity with us
This year we're celebrating 50 years of medical humanitarian action and reflecting on some pivotal moments that have marked our history.
From disaster responses to epidemics, conflict zones to refugee camps, our teams have provided essential health care and assistance to millions of people who would otherwise be denied access to healthcare, clean water and shelter.