South Sudan: UN Failure to protect civilians?
Facilitating peace is a tough mandate for the UN. But nowhere is it more challenging than in the new state of South Sudan. And while it may be a long way from Australia, progress here is not only crucial for the suffering population but important to all those states that want to see the peacebuilding agenda of the UN succeed.
A long way from Australia but important to all those states that want to see the peacebuilding agenda of the UN succeed. A new wave of violence now rips across the country leaving more people than ever before cut off from humanitarian and medical care. MSF is desperate to reach those in need, and call on the UN and all member states to do whatever they can to ensure access and protection for the civilians of South Sudan.
South Sudan is a poor landlocked central African country which has seen decades of separatist violence followed by a vicious civil war that has now lasted three years. This has left large parts of the population terrorised, displaced, and vulnerable.
The United Nations Mission in South Sudan UNMISS had the difficult mandate to foster peace and state building with the new government when South Sudan split from the North in 2011. Since then, the country has descended into civil war and UN bases have been turned into 'Protection of Civilians' sites, which are internally displaced peoples camps where the residents hope to find respite from the violence raging around them.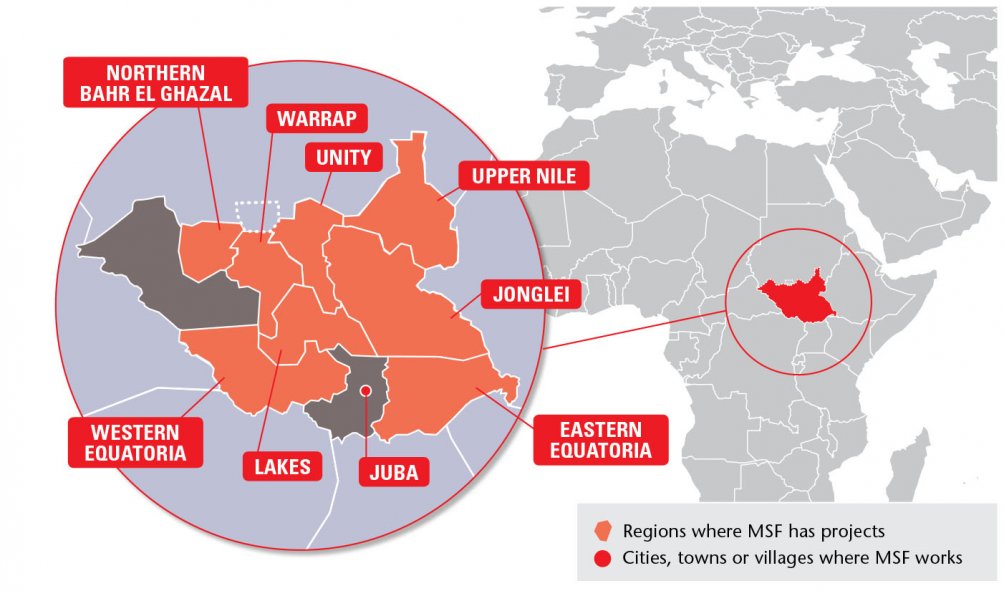 Further violence in the town of Wau in June has also seen civilians failing to gain entry to UN property in the hope of protection. Fighting has now broken out in the capital Juba. More than three hundred fighters from both sides of the conflict have been killed, as have two Chinese peace keepers  despite the signature of a peace agreement in August 2015. See here the UN's own damning report on the failure of peace keepers to save lives during this violence. 
Immediate needs remain the focus for MSF and other humanitarian responders. MSF has over 3000 staff including eight Australians in South Sudan (the largest MSF mission in the world) and yet we see no shortage of need.
South Sudan presents a huge challenge to the international community that has made significant investments and yet seen the country torn apart by ongoing conflict. MSF continually seeks new ways to ensure basic medical and humanitarian needs are met. Disengagement is not an option. Rather, more and better engagement by states as well as NGOs must be part of the solution for the South Sudanese people.