Myanmar: Analysing our COVID-19 response
Following a tumultuous year which saw a military takeover, horrific violence and widespread civil disobedience, Myanmar's public healthcare system remains in disarray. Most medical staff remain on strike, and the devastating COVID-19 outbreak has overwhelmed hospitals. 
As a new year begins, the Médecins Sans Frontières team in Myanmar looks back at our COVID-19 response: what we're proud of, what we've learned from, and how we're approaching the next phase of our response.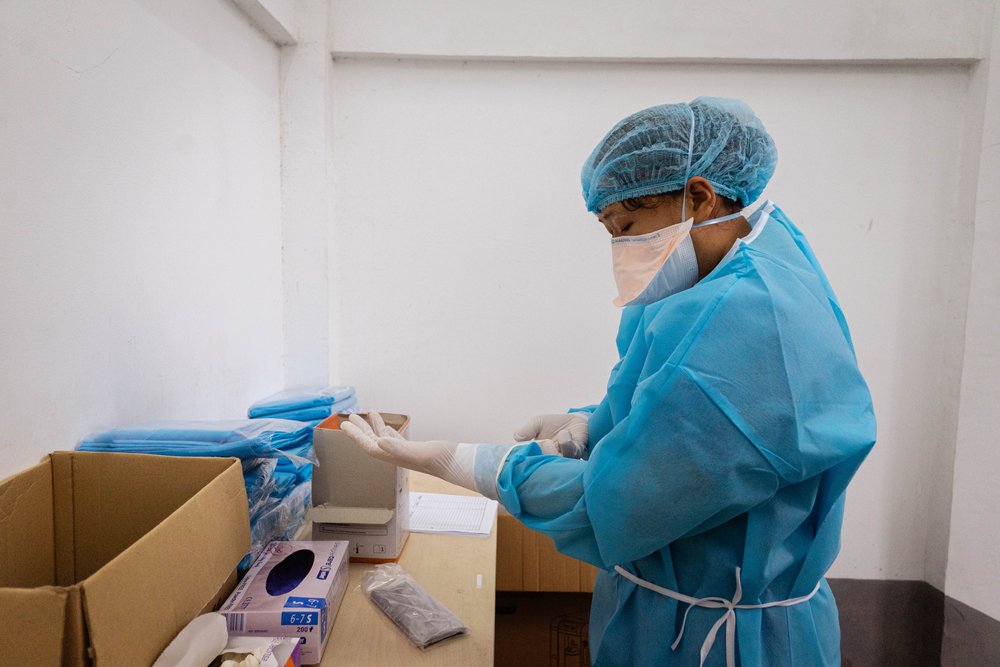 When the Myanmar military seized power on 1 February 2021, medical staff walked out of their jobs, spearheading the civil disobedience movement that saw government employees of all stripes go on strike. Most have not returned. 
Those on strike who continue to practise in underground clinics risk being attacked and detained by the authorities. At least 28 healthcare professionals have been killed since 1 February, and nearly 90 have been arrested. 
Full crematoriums and empty shelves
As COVID-19 infections peaked, beds in hospitals were scarce, and many were left scrambling to source their own supplies of oxygen to administer at home. Routine consultations, surgeries and vaccinations were cancelled while the skeleton medical workforce responded to the outbreak. Panic buying led to empty shelves in pharmacies. 
As the death toll rose, crematoriums could not process the bodies fast enough. 
Naung Ting, a 34-year-old caregiver at MSF's treatment centre in Myitkyina, Kachin state, told us how his father-in-law, sick with COVID-19, couldn't be admitted to either of the hospitals he presented to: the local hospital where he lived, or the major hospital two hours away in Yangon. 
"My relatives, who are doctors in America, made a messenger group and they were giving remote treatment for him," he says. "It meant we had to buy medicine on our own. 
"We had to arrange the oxygen and the cylinders. Relatives who had no medical experience of giving injections had to do it. And the medicine was so expensive."
Demand pushed up the price of a drug to treat blood clots, which are common among COVID-19 patients, to 40,000 kyats (US$22) a pill. He had to take two every day. Naung's family could only find one oxygen cylinder, and they needed to travel to Yangon and back every other day to refill it. 
Ultimately, his father-in-law could not get enough oxygen. He did not survive. 
Myanmar's Ministry of Health recorded nearly 20,000 deaths from COVID-19 to the end of 2021—the fourth highest mortality rate in southeast Asia. But this figure is misleading, as it only includes people who died in hospitals. Thousands more, like Naung's father-in-law, died in their homes while facilities were full. We will likely never know the real figure, but from our experience responding to epidemics, it is undoubtedly multitudes higher.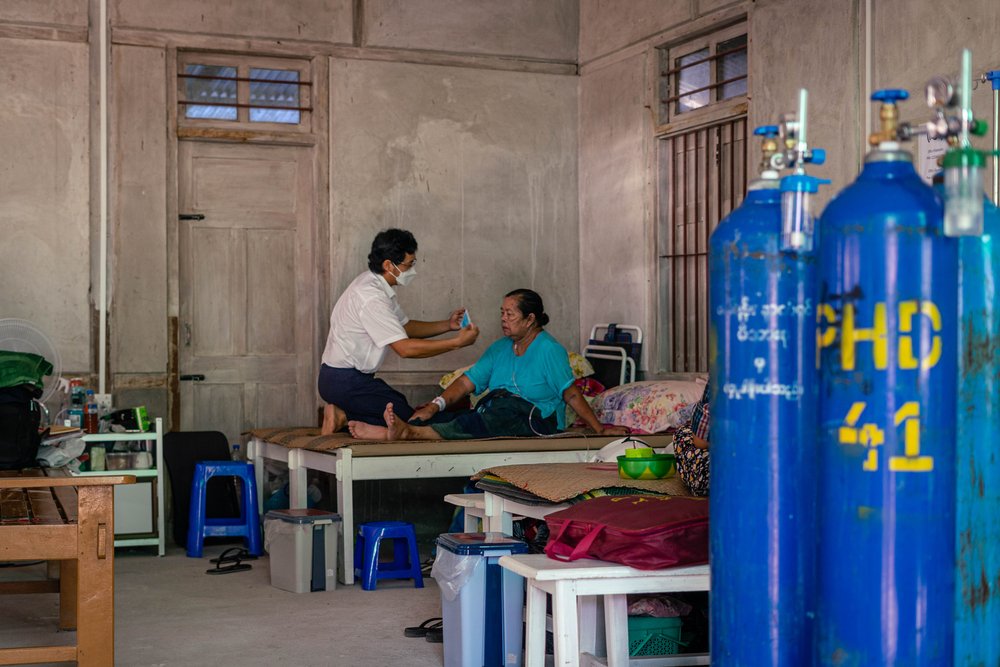 Responding during ongoing an ongoing crisis
We were granted permission to open three independent COVID-19 treatment centres to receive patients with moderate to severe symptoms in Myanmar's biggest city Yangon, and Kachin state's Myitkyina and Hpakant townships. 
Our human resources department worked at full capacity to hire more than 150 staff in a matter of weeks. Our logistics team sourced equipment, including life-saving oxygen concentrators, and found and refurnished premises appropriate for COVID-19 patients. Our medical staff trained up teams of doctors, nurses and assistants to deliver quality care to their patients. 
To do this at such a rapid pace took an incredible amount of work, particularly when COVID-19 was infecting the team and our families. Remarkably, while some of our team fell seriously ill with the virus, no one on the team lost their life to COVID—but many did lose family members. Despite these huge challenges we pulled together and looked after each other, working overtime to prepare facilities for people we knew were in urgent need of our services.
Although we could not save some patients admitted in very critical condition, some people made remarkable recoveries. One woman living with HIV could barely breathe when she arrived at our facility, but within five days she was off oxygen and could be discharged, making room for another patient. For others the progress is slow and steady. One 64-year-old woman stayed in our Myitkyina clinic for 46 days, slowly improving her lung capacity until her oxygen levels were good enough for her to go home. 
"Only around 13 million people in Myanmar are fully vaccinated, around a quarter of the population. If another wave of infections spreads, the public healthcare system risks being overwhelmed once again."
What we've learned
Our response could have, and should have, been larger and earlier.
The Delta variant had overwhelmed India and Bangladesh in the months before – two countries that share a porous, 2,000 kilometre border with Myanmar. The arrival of the Delta variant was inevitable. In hindsight, we could have used that time to prepare and equip ourselves, and to have learned from the challenges MSF had faced responding in India where access to oxygen was one of the biggest issues, like it would become in Myanmar.
When the third wave hit, Myanmar was six months into the military takeover. The team was already working at full capacity to maintain existing activities and fill the gaps left in the struggling public healthcare system, in particular taking on thousands of HIV patients from the state's National AIDS Programme. We felt we had no capacity to respond to an outbreak while maintaining quality of care for patients we were already responsible for. 
By the time our first treatment centre began accepting patients in early August, COVID-19 was already devastating the country. Accessing essential drugs, often ones that were in high demand and short supply, was difficult due to convoluted import processes, and the supplies we had were quickly exhausted. 
While we had permission to run independent COVID-19 responses in three locations, not all local health authorities were on the same page. We began supporting a facility in Lashio, the capital of northern Shan state, on 11 August, but we were ordered to close it down on 15 August. Days after receiving our first patients, we were forced to transfer six people receiving treatment to the military government's treatment centre, despite their preference to receive care from MSF. 
When cases started to appear on Myanmar's western border, our teams attempted to explore a response in Chin state where there was a critical lack of doctors; authorities in the capital Naypyitaw, citing security concerns, blocked our travel plans. Transporting key medical supplies to these under-resourced areas was all we could do.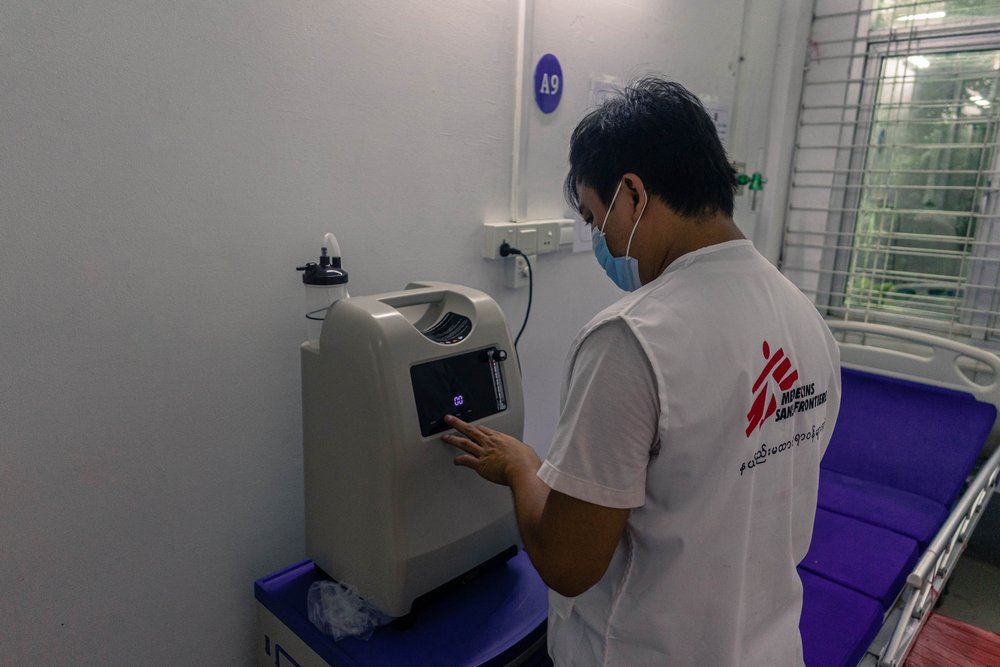 Committed and ready
Despite the challenges, our COVID-19 facilities have become much more than field clinics. These facilities are now excellent hospitals that have saved many lives and will save many more in the future. 
Only around 13 million people in Myanmar are fully vaccinated, around a quarter of the population. If another wave of infections spreads, the public healthcare system risks being overwhelmed once again. With that in mind, we are maintaining our COVID-19 infrastructure and keeping medical staff on hand should there be another outbreak. 
We have learned many lessons from the challenges we faced in 2021. We remain committed and ready to respond to new and unexpected challenges to come. Our commitment to the people of Myanmar is unwavering.
Subscribe to hear more stories like this one!
Our monthly e-newsletter is a great way to hear the latest from our projects around the world.