Gaza: Reconstructing lives after amputations
Amro, Mohammad, Muawiyah and Mahmoud share an experience: they all underwent amputation after being badly wounded by the Israeli forces. They were either injured during the 2018-2019 demonstrations, known as The Great March of Return, or by an Israeli rocket in the May 2021 conflict.
They told their stories to photographer Giles Duley, himself an amputee following injuries sustained in conflict zones.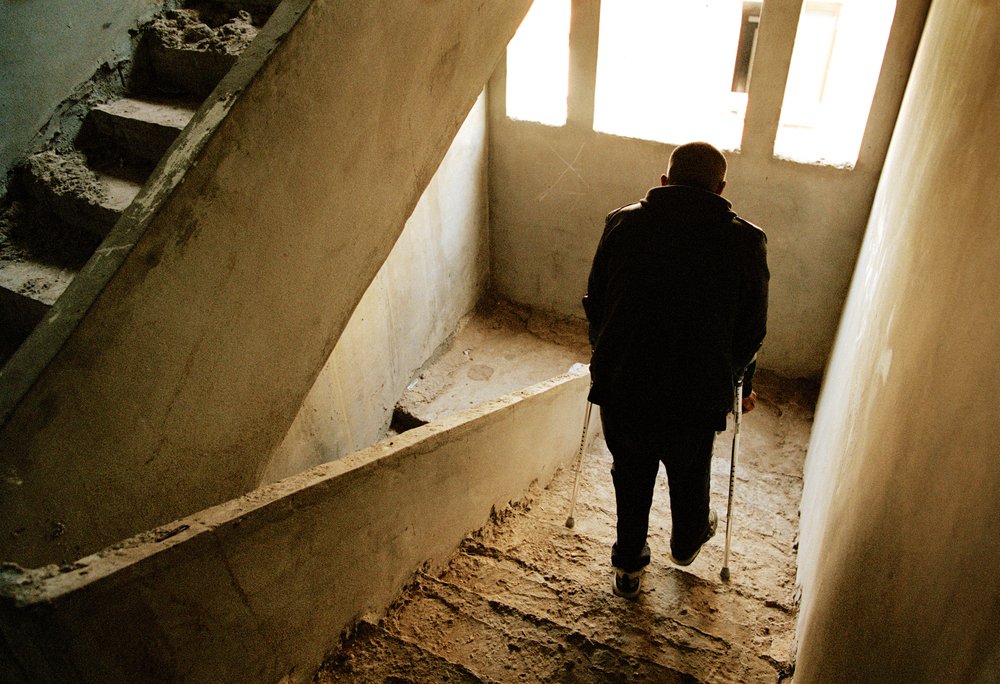 Amro, Mohammad and Mahmoud are among the 36,000 people who were injured during the "Great March of Return'" protests. These demonstrations were held near the security fence between Gaza and Israel every Friday between 30 March 2018 and December 2019, to commemorate the 70th anniversary of the 1948 exodus, an event known to Palestinians as the "Naqba". Muawiyah was injured during the 2021 bombing of the Gaza Strip by the Israeli forces. Like 152 fellow Palestinians, they suffered amputations to prevent the risk of infection in their wounds.
Photographer Giles Duley lost two legs and an arm after stepping on a mine in Afghanistan in 2011. "I'm a photographer, a chef and a writer, but I'm an amputee myself. Their stories resonate in a very personal way."
During the 2018-2019 protests, MSF tripled its medical capacity to care for the injured, offering plastic and orthopaedic surgery, as well as treatment for bone infection resulting from the injuries. MSF also provided post-operative follow-up, including dressing changes, physiotherapy, pain management and psychosocial support. Between the first demonstration on 30 March 2018 and 30 November 2019, MSF hospitalised more than 4,830 people in its trauma units.
Four years after the protests began many patients are still dealing with the devastating consequences of their injuries, which have taken an increasingly heavy toll on their lives and those of their loved ones. For many, the severity of the injury makes amputation inevitable.
"If you don't get an amputation when you should," says Herwig Drobetz, an MSF surgeon in the limb reconstruction unit at Al-Awda Hospital, "your body ends up fighting a chronic infection like cancer. These patients look really sick. They are usually tired and malnourished. Once they are amputated, they are different people. They feel better, it's amazing how quickly they get better."
"As an amputee myself, I have had many conversations with people who are dealing with the idea of losing a limb and the psychological challenges... We need to make these positive stories visible and fight the stigma."
Nevertheless, amputation is often experienced as a failure by patients and those around them, which often makes it difficult to accept the operation. Some actually refuse it, especially young men who prefer to endure years of chronic pain, repeated operations and reduced mobility, in order to keep their limb. Giles Duley understands this from personal experience.
"As an amputee myself, I have had many conversations with people who are dealing with the idea of losing a limb and the psychological challenges that precede the surgery. For young men, there are several reasons for this hesitation. Fear of not being able to work and provide for their families, stigma and perceived shame at this new body image. Patients have told me that they feel they are no longer "real men" or that no one will like them. They feel this need to fight the injury rather than give in and opt for amputation. I understand these concerns. But if you put prejudice aside with the support of those around you, a normal life is entirely possible. We need to make these positive stories visible and fight the stigma."
Giles Duley invited Amro, Mohammad, Muawiyah and Mahmoud to tell the stories of their lives after amputation, during his visit to Gaza in March 2022.
Amro Ayman Alhadad
Amro Ayman Alhadad, 23, was injured by an Israeli army bullet on 14 May 2018, during the "Great March of Return." Along with some of his classmates, he had joined the demonstration prompted by then-U.S. President Trump's decision to move the U.S. Embassy to Jerusalem, exacerbating existing tensions.
His bus arrived at the demonstration site at 11:15 AM. Fifteen minutes later, he was shot in his leg and lost consciousness.
That day, according to health authorities in Gaza, 52 Palestinians were killed and 2,400 injured. In that chaotic situation, Amro was presumed dead. It was pure chance that a neighbour who works as an ambulance driver saw him among the bodies and realised he was still alive.
After receiving emergency treatment in Gaza, Amro was taken to Turkey for more surgery. His leg was amputated. On his return, Amro locked himself in his family's apartment in Gaza City.
"I found escape in drawing, I watched videos online and taught myself to be an artist." He spent his days indoors, drawing and taking care of his bird, which never leaves him. Amro didn't dare to go out for fear of how people would look at his amputated leg. He is also afraid of crowds."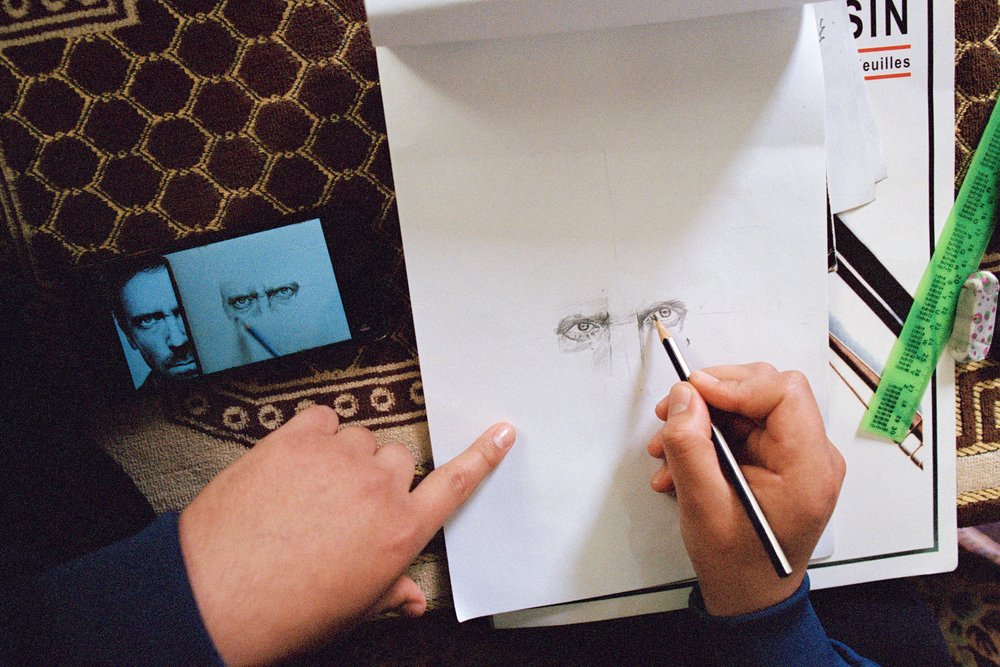 On the sidelines of the shooting sessions, Giles proposed to share a moment outdoors. "On my last day in Gaza, I asked Amro if he wanted to join me for coffee on a quiet part of the beach. He agreed and we spent a few hours drinking coffee and talking. I suggested that he meet Mahmoud [another MSF patient] and join an amputee support group. It is through the experience of others that we find hope. He promised he would and asked me to share his story.
'Maybe my outings will give someone else hope,' he confided in me."
Mohamad Soliman Mohamad Saad
Mohammad Saad was injured on 21 September 2018. He went to the border fence after learning that his fifteen-year-old son had been injured. Moments after finding him, he was also shot in the leg by the Israeli forces. When he regained consciousness, he was told that he might lose his leg due to a blood clot.
Over the next few years, he underwent ten operations to stabilise the condition of his leg, but he was unable to walk. He was in pain 24 hours a day and became increasingly frustrated at not being able to work.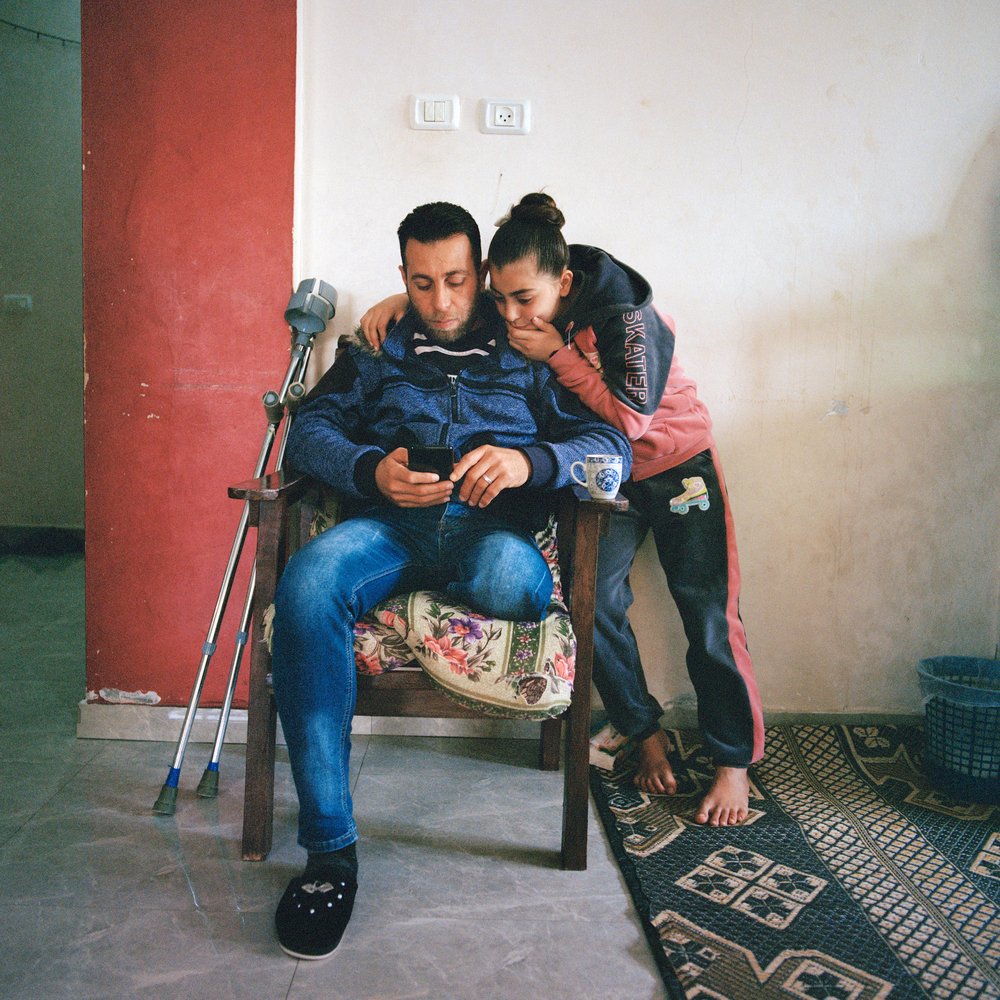 In 2021 he had his first consultation with the MSF team, who recommended amputation. He quickly accepted, determined to move forward. "Fortunately, I have not felt any stigma. My wife and family have shown me love and encouragement throughout. My wife is definitely the main reason I accepted the amputation and the challenges that come with it. Of course, my mother too... I never asked them for help. They just knew how to support me."
After going through such an ordeal, Mohamad doesn't hesitate to share his experience.
"If doctors advocate amputation, I would recommend doing it. Before I did, I couldn't go outside or play with my children. Now I can do everything. After three years of pain, I can finally get on with my life."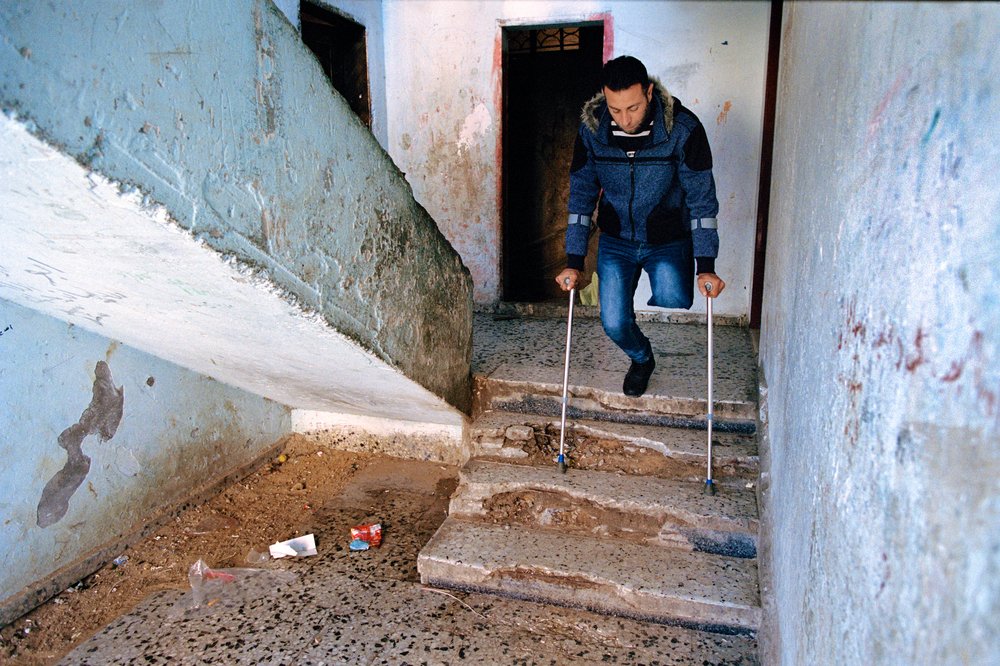 Muawiyah Al-Wahidi
On 12 May 2021 Muawiyah Al-Wahidi, 42, was opening his barber shop in Gaza City when a rocket hit a car in the street. He was unhurt, but the tailor working across the street ran towards him, shouting that he had been hit in the chest. Halfway to Muawiyah he collapsed, blood pouring from his mouth.
Muawiyah was crouching next to him reciting prayers when the next rocket hit. When he woke up in the hospital, his right leg had been amputated and his left ankle was broken.
In the weeks that followed, he refused to eat and suffered from depression. "I would look at myself and then look at others and said to myself, I don't want to be different." When he returned home from hospital his depression got worse. "At first I refused the food my wife cooked, it was hard for her. I was angry at her, at my brother, at the kids. It was hard. But fortunately, we got through it."
Community support played an important role in his journey. So did the guidance of Marwah, an MSF psychologist, who taught him and his wife Yassmin how to deal with anger and depression.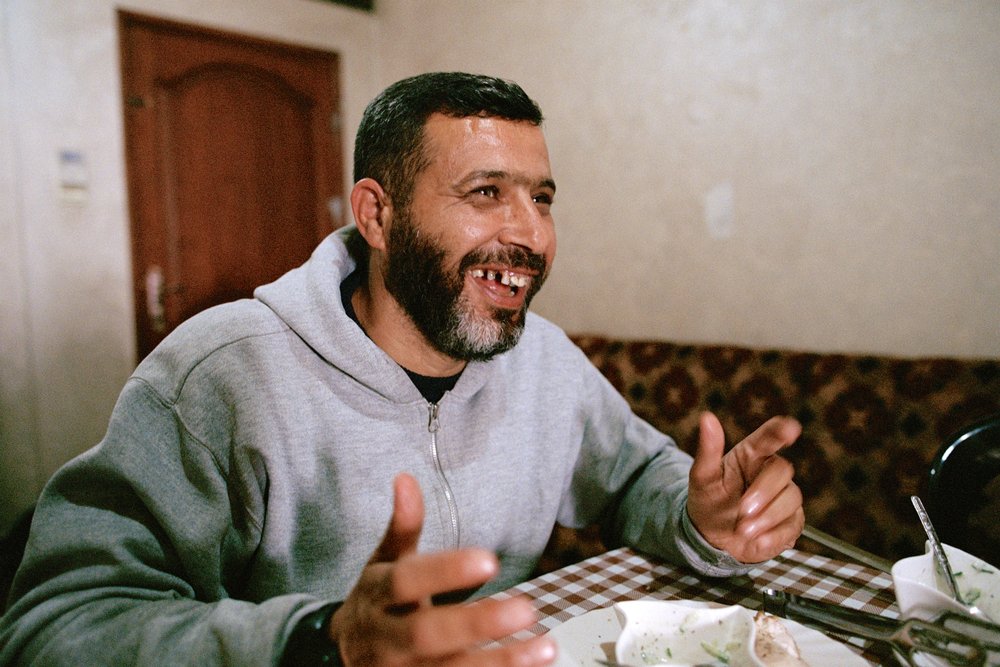 A few days after meeting Muawiyah at his barber shop, photographer Giles Duley was invited to dine with his family. "They knew I was eager to learn how to make musakhan, a Palestinian dish of chicken, onion and sumac placed on a taboon bread that soaks up the sauce. As we cooked, Yassmin told me, "At first it was hard for me and the kids. I had to pretend to be strong for everyone." As we sat down to eat, I asked Muawiyah if he was hungry. He replied, 'Now I can enjoy the food again, this dish'."
Chapter 4: Mahmoud Khaled Ibrahim Khader
Mahmoud Khaled Ibrahim Khader, 27, had his leg amputated after he was shot in the thigh in May 2018.
He was initially transferred to a hospital in Jordan where surgeons attempted to save his leg. After 38 days, with no signs of the bone healing, the decision was made to amputate. Further surgery followed, but a prosthesis could not be used because the wound remained infected.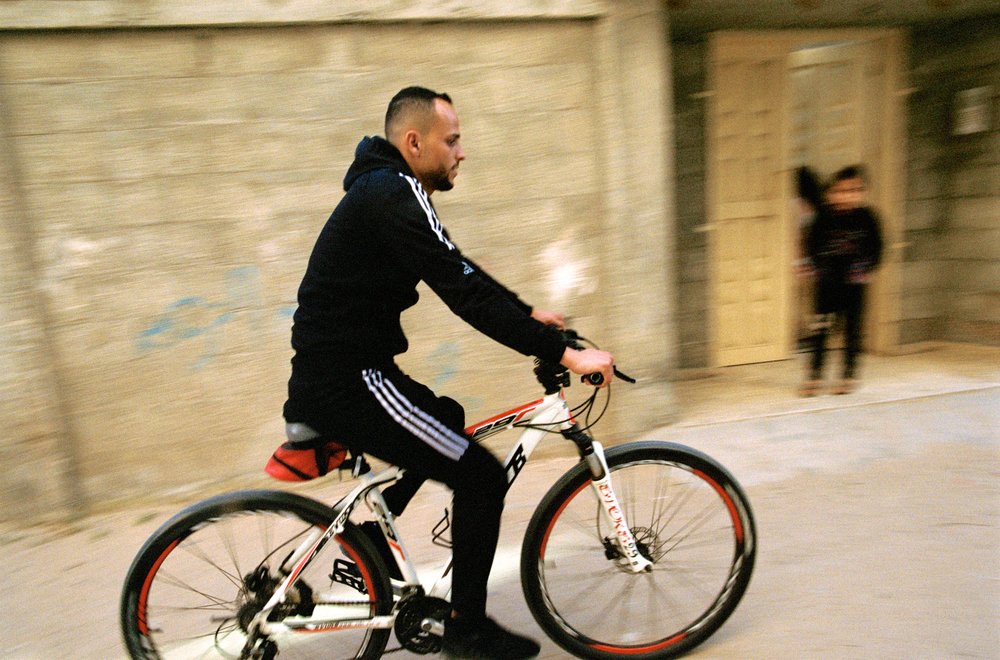 In July 2020, two years after losing his leg, he met an MSF medical team, who suggested a new amputation. The team believed that removing an additional five centimetres of bone could reduce the infection and create a more stable stump that would be better suited to a prosthesis. Almost immediately after the surgery, Mahmoud could feel the difference. Soon enough he could wear a prosthesis and was able to return to work.
Nevertheless, he feels subjected to the insistent gaze of passers-by and to prejudice, such as the idea that amputees are more likely to become drug addicts. "My girlfriend's parents refused to let me marry their daughter. They said, 'You're on tramadol, we don't want our daughter to marry a drug addict. That was hard to hear, even my best friend thought that."
It is finally a chance encounter with a group of amputee cyclists that helped Mahmoud find peace. He can now both release his energy and spend time talking with people who share a similar experience. "Cycling became my escape, and through this activity people could see that I was athletic and not on drugs."
A week before meeting Giles, Mahmoud got married. Today, he dreams of starting a family. "But," he says, "cycling will always be a part of my life. This group is also my family."
All images © Giles Duley, March 2022.
For the over five decades that Israel has occupied the Palestinian Territories of the West Bank and Gaza Strip, Palestinian people have experienced continued and repeated traumas. Médecins Sans Frontières/Doctors Without Borders (MSF) provides mental health services to men, women and children with moderate or severe psychological issues and psychiatric disorders in the West Bank and Gaza, including a response to mental health issues which are a specific result of violence in the West Bank.