Brazil's coronavirus nightmare
Brazil's COVID-19 pandemic has spread to its most vulnerable communities—residents of slums, the homeless, and indigenous and minority groups—causing the death toll to skyrocket in a country where leadership still debates the very existence of the virus.
"I'm sorry to cause you so much trouble." 
It's hard to hear the wheezing man in his 60s from behind his mask, so Dr Raquel Simakawa leans in closer as he repeats himself: "I'm sorry."
The man has been in this condition for three days. Despite his critically low oxygen levels and deteriorating condition, he was repeatedly discharged from care in the local hospital. Now he is one of more than 50 patients in one of MSF's emergency shelters in São Paulo, a space created so that people experiencing symptoms of COVID-19 can isolate themselves from others.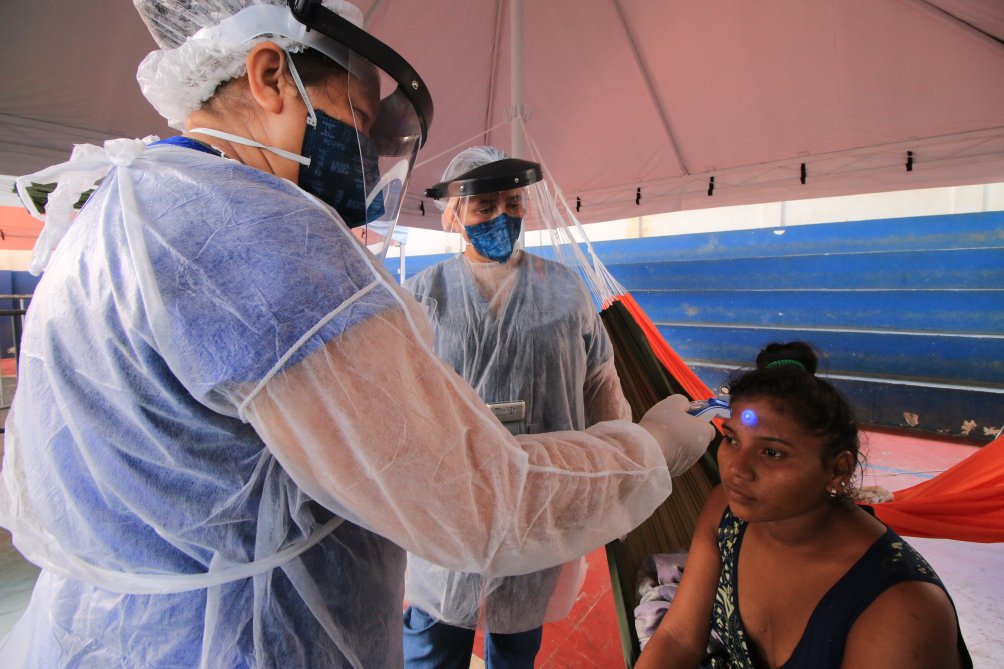 Patients with mild symptoms are instructed to remain isolated at home and to seek medical care at any sign of their symptoms worsening. But for the more than 24,000 homeless people in São Paulo, these recommendations are difficult, if not impossible, to follow. To make matters worse, these people regularly suffer neglect and prejudice by the health system when they seek treatment.
For Dr Simakawa, the COVID-19 pandemic has brought to light injustices that cannot be ignored.
"It is not the virus along that has caused all this suffering," Dr Simakawa says. "The man I am looking at is living proof that there are other villains here, including social and economic inequalities.
"How is it possible that an elderly black man, sick and homeless, feels that he is causing 'trouble' to health professionals who are only doing their jobs? This care is his right."
The escalating emergency
Brazil now has more than one million confirmed cases of COVID-19, with an additional 15,000-30,000 more people being infected every day—the country is second only to the United States in terms of total case numbers and deaths. The death count has risen to more than 52,000 deaths, with many more inevitable due to the lack of access to effective healthcare. The state of Amazonas has the highest mortality rate, and the situation in the capital, Manuas, is dire.
"The four main hospitals in Manaus were all full," says Dr Bart Janssens, MSF Emergency Coordinator. "The hard-working medical teams there are dealing with extremely sick patients, often arriving too late and too far gone to be saved. A high percentage of the patients going into intensive care units are dying, and large numbers of medical staff are falling sick."
How is it possible that an elderly black man, sick and homeless, feels that he is causing 'trouble' to health professionals who are only doing their jobs? This care is his right.
The intense oxygen treatment needed to treat severe COVID-19 cases requires ICU beds and trained staff, both of which are in short supply. For several weeks, hundreds of people have been falling increasingly ill in non-ICU hospital wards, waiting for intensive care beds to become available. Nurses in Brazil are dying of COVID-19 more quickly than in any other country in the world—almost 100 nurses are dying every month. The capacity to respond to the needs in Brazil is being decimated.
"It is not a coincidence that Brazil is suffering so acutely," says Ana de Lemos, Executive Director of MSF Brazil. "We have long known that Brazil is a country with enormous inequalities, but COVID-19 is shining a terrible and clear spotlight on a health system that is plagued with structural inequalities and exclusion from care for huge numbers of poor or homeless people, and for regions such as Amazonia that have been starved of proper health investment for decades.
"We have seen amazing efforts deployed at state and local level to deal with the pandemic, but we also see a huge misalignment in guidelines, policies, and general approach between central government and the regions. This sows confusion and serves to weaken the national response."
Assisting remote communities
Vast and sparsely populated by indigenous communities, Brazil's Amazon region is a uniquely special—and vulnerable—place. For years the area has suffered from the encroachment of mining, deforesting and farming interests, as well as chronic underinvestment in healthcare. When transmission brought COVID-19 from the big coastal cities, it was a recipe for disaster.
Indigenous communities are especially vulnerable to this disease. With limited access to healthcare and minimal access for any healthcare workers to standard prevention tools, such as personal protective equipment, a virus like COVID-19 can spread rapidly. Long journeys to regional hospitals or clinics bring additional risk of virus transmission on crowded public transport. In Tefe, a town almost two days' boat journey from Manaus up the Amazon river, the situation is becoming devastating.
"When I visited to assess the situation, the hospital management team told me that almost 100 per cent of their COVID-19 patients needing critical care had died," says Dr Janssens. "They did not have enough specialist staff to care for the very sick patients that were arriving at their door."
The hospital in Tefe has requested MSF assistance, and discussions are underway for possible MSF involvement in the intensive care unit and six peripheral health centres. Now, indigenous communities will have access to treatment and isolation options that may prevent the need for a longer journey to Manaus.
A dangerous cycle
The pandemic creates a dangerous cycle. Marginalised groups are at higher risk of COVID-19 infection due to their living conditions, but job losses and work restrictions are also dragging more people into situations that put them further at risk. Before the virus there were already more than 24,000 people living in temporary housing or on the streets in Sao Paulo. Now, thousands more have been forced into extreme poverty and uncertain living conditions.
The health system is stretched to its limits.
"The health system is stretched to its limits," says Dr Ana Leticia Nery, São Paulo Project Coordinator. "The barriers preventing these extremely vulnerable populations from accessing healthcare in Brazil have become even more palpable."
The long journey ahead
MSF teams are assisting the homeless in the streets of downtown neighbourhoods as well as inhabitants of slums in the city outskirts. Through partnership with local organisations and the São Paulo Municipality, we are running medical activities in two isolation facilities for homeless people who have tested positive for the disease and who show mild or moderate COVID-19 symptoms. We are also focusing on people who are dependent on alcohol and users of cocaine with a health education and assistance program. 
Our teams are continuing health promotion, screening and diagnosis activities in most of our existing project locations to ensure those with symptoms are able to receive treatment. We are also providing technical advice on infection prevention and control to medical facilities and nursing homes, and are in discussions regarding opening a palliative care unit in São Paulo to provide end-of-life care for critical patients who are too sick to be treated in other hospitals. As the death toll rises, we are scaling up mental health support for medical staff who are dealing with the trauma associated with such a high mortality rate.
We are continuing to find ways of expanding activities with local health authorities, but we are reaching the limit of our capacity. It is clear that a more focused COVID-19 response is required from central government. Testing is insufficient, and some local governments are already relaxing social isolation measures without evidence that the number of cases is falling. Community leaders, local organisations and staff on the frontline of the epidemic need to be supported with direct assistance and essential tools, whether that support comes from inside Brazil or from abroad.
The COVID-19 outbreak in Brazil is far from over.
Can you make a donation to support our COVID-19 response?
Right now, Médecins Sans Frontières is providing much needed support and medical care in over 30 countries to counter the COVID-19 pandemic.
Our teams are also gearing up to confront potential outbreaks in the hundreds of areas we were already working before the pandemic struck. We are deploying medical staff, sending supplies and applying nearly 50 years of experience fighting epidemics to protect the most vulnerable and save lives.
 
Can you help increase our capacity to respond by making a donation to our COVID-19 Crisis Appeal?