Our top media moments of 2019
Following another year of highs and lows, here's a compilation of some key moments captured in Australian and New Zealand media. 
1. "Bizarre Vendetta: Nauru bans telehealth after Doctors Without Borders starts seeing patients"
BuzzFeed Australia
Nauru banned overseas doctors from treating patients on the island via video or phone calls.
The ban, laid out in regulations dated 22 February 2019, was put in place two weeks after Médecins Sans Frontières/Doctors Without Borders (MSF) announced it would start up a telehealth service in an attempt to provide continuity of care to the patients it was forced to leave behind in October 2018. In this BuzzFeed Australia story, MSF revealed it had withdrawn that remote telehealth service, citing fears patients could be caught in the middle of a "bizarre vendetta" between the charity and the Nauruan government.
 
2. "Unsafe abortion: the forgotten medical emergency"
MJA Insight Plus
Unsafe abortion represents a major public health problem worldwide. At least 22,000 women and girls die from unsafe abortion each year, making it one of the top five causes of maternal mortality. On top of this, an estimated seven million women and girls suffer long-term consequences from unsafe abortion, including serious side effects and lifelong disability. Dr Claire Fotheringham, medical advisor on women's health penned this opinion piece, drawing on her experience working both in Australia and in Sierra Leone.
3. "The challenges facing MSF in supporting DRC Ebola response"
Devex
The response to an epidemic starts within the community, according to Dr Joanne Liu, International President of MSF. But with the current Ebola outbreak facing the Democratic Republic of the Congo, Liu told Devex that communities have been left behind, creating a failure in the response. "The community is confused – they said we come, drive too fast on the streets and get out in spaceman suits. Then we take their loved ones that they may never see again. They don't understand what is going on."
4. "Refugees are people, not pawns"
The Canberra Times
Today, more than 68 million people are forcibly displaced around the world – the highest number on record. In this opinion piece Paul McPhun, Executive Director for MSF Australia, writes about how independent organisations established to help those in need face increasing obstacles and are confronted by a growing trend to criminalise the very act of assistance. "What we have witnessed in 2019 is that governments are making that journey increasingly dangerous and cruel," writes McPhun, "As an international medical organisation, our humanitarian efforts to save lives and reduce suffering have been criticised and blocked."
5. "Body Hack: Gaza Strip"
Network 10
In the first episode of this season's Body Hack, Todd Sampson travelled to the Gaza Strip, arriving during the March of Return protests where to date, over 28,000 people have been injured and 280 killed in the weekly protests. Todd shadows MSF surgical teams, speaking with both Dr Julia Amando and Dr Thomas Schaefer.
6. "I've seen hundreds of cases of measles in one day. It is a luxury to be able to vaccinate your child."
The Guardian Australia
No child should die of measles, whether in Australia, the Democratic Republic of Congo or elsewhere, writes Dr Saschveen Singh a medical doctor who works with MSF. In this opinion piece for the Guardian Australia, Singh puts this into context: "I've been working as a doctor in Australia for 13 years, and until seeing my first case in a Perth emergency department a few years ago (when we saw a resurgence of measles in Australia due to returned travellers and an increase in the anti-vaccination movement) I had only seen measles in textbooks. So, when I saw the burden of this very infectious, deadly and yet preventable disease – hundreds of cases within a single day in a single village – it was shocking."
7. "The Tauranga midwife providing care in war-torn South Sudan"
NZ Listener
Kiwi midwife Janet Coleman has ticked off nine field placements with MSF. She recently returned from three months working in Old Fangak, in the Sudd wetland area of South Sudan, where MSF runs a 41-bed hospital. As Coleman told the NZ Listener, "I was responsible for the provision of antenatal care, delivery, gynaecological care and postnatal care. The role also included recruitment and training of South Sudanese staff and identifying training needs, and I was often on call 24/7 and available for emergencies."
8. "Rohingya refugees fighting plans to begin repatriation to Myanmar"
The Sydney Morning Herald
Rohingya refugees languishing in the world's largest refugee camp are fighting a plan to return them to Myanmar's Rakhine State. MSF's head of mission in Myanmar, Pavlo Kolovos, told the Sydney Morning Herald that in Rakhine State "people still face targeted barriers to healthcare and to their livelihood because of discriminatory practices."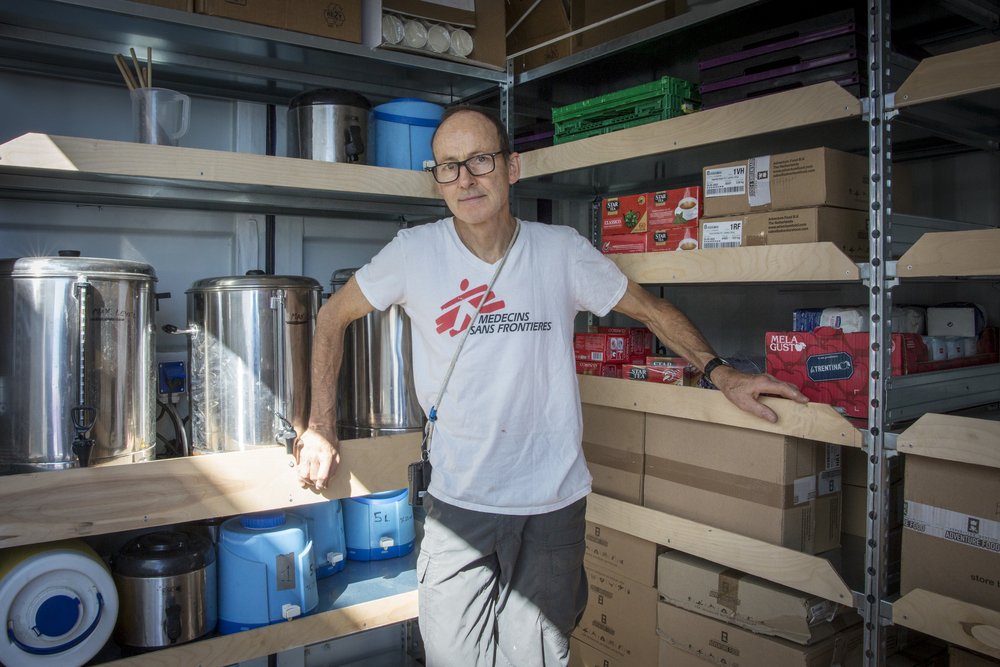 9. "Deadly voyages across the Mediterranean, and the New Zealander trying to save lives"
The SpinOff
Despite the world's attention turning elsewhere, thousands of asylum seekers continue to die on perilous voyages across the Mediterranean. Shaun Cornelius, MSF logistician spoke with The SpinOff New Zealand about his experience working on board the Ocean Viking.
10. "Syria: The suffering and hardship created by this conflict needs an increased and adequate international response"
ABC The World
Robert Onus, emergency manager for Syria, spoke to ABC TV – The World about the difficult decision to suspend activities in northeastern Syria. Onus tells the ABC: "Many of those camps have been disbanded, people have fled from the conflict and, right now, we're very concerned about the lack of access to water, lack of access to medical care and the impending winter, which will make life more difficult for people."
11. "Medevac is repealed"
ABC TV News Tonight
The decision to repeal Australia's 'Medevac' legislation endangers patients in need and ignores the ethical framework of the entire medical profession, said MSF. In this interview Paul McPhun, MSF's Executive Director tells ABC's Karina Carvalho: "MSF continues as it always has to call for the complete removal of everybody from offshore detention. It causes mental, physical harm, it's predictable, it's known, we've documented it in Nauru, we've documented it elsewhere in the world. There's a body of medical evidence behind this… People need a safe environment so that they can rebuild their lives, they can be reunited with their families, and they can overcome the severe trauma they've been under for the past six years."